Milhaus Development LLC has cleared downtown property in the historic Chatham Arch neighborhood and is ready to start building condominiums at 10th and Broadway streets.


The first of the 84 units in five structures should be available in the fall. Meantime, here's a few renderings the local developer has provided of the 28 townhomes and 56 flats that will comprise the Park 10 development.
Two- and three-bedroom options are available. The flats range from 938 square feet to 1,324 square feet and are priced from $199,000 to $299,000. The townhomes range from 1,200 square feet to 2,061 square feet and are priced from $299,000 to $399,000.
Park 10, so named because the development's west edge is bounded by Park Avenue, is one of the few condominium projects in the works for downtown.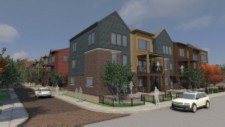 Racked by the recession and the housing collapse, condos became nearly impossible for developers to finance and fell out of favor, replaced by trendier apartment projects. Apartments are particularly popular downtown and with the millennial crowd that prefers to rent.
But now there seems to be enough confidence to prompt developers to at least dip their toes into the market.
Milahus won approval in September from the Indianapolis Historic Preservation Commission to begin building Park 10.
To make way for the development, Milhaus bought the property and demolished the Park Avenue Church of Christ on the southern parcel fronting 10th Street and also a building on the north side fronting 11th Street that formerly housed operations of The Frank E. Irish Co., a large mechanical-contracting firm that closed in 2008.
The architect for the Park 10 project is local based Rottmann Collier Architects.
Please enable JavaScript to view this content.