Just three months after arriving in Indianapolis, popular pizza chain Giordano's is opening a second location in the city, in the downtown Illinois Building that's undergoing a major renovation.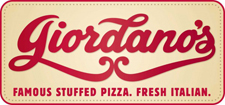 Giordano's plans to open the location at the corner of Illinois and Market streets in November, the restaurant announced Wednesday morning along with building owner Keystone Realty Group.
The Chicago-based chain's location in the Rivers Edge shopping center has proven so popular since opening in late January that wait times can reach up to three hours.
"Giordano's was warmly welcomed by Hoosiers when we opened our first pizzeria in Indianapolis," CEO Yorgo Koutsogiorgas said in a prepared statement. "We're very excited to bring 'Chicago's Best Pizza' to downtown Indy."
Construction of the first-floor restaurant should start in the summer. Plans also call for two more restaurants on the ground level, with a rooftop bar and restaurant on the 11th floor.    
The Illinois Building will be anchored by a Canopy by Hilton, as IBJ reported in October. McLean, Virginia-based Hilton Worldwide is rolling out the new brand in 10 cities nationwide.
Keystone bought the building in late 2013 and has embarked on a total rehab of the structure.
Built in 1926, it last housed a food court and a gym, both of which closed in 2003. Three years later, it landed on the Indiana Landmarks "10 Most Endangered List."
The building's location, just a block west of Monument Circle, makes it attractive, though.
"Having such a well-known and beloved brand name (Giordano's) represents the next step in revitalizing a historically significant property, with more announcements of further developments still to come," Ersal Ozdemir, CEO of Keystone Realty Group, said in a written statement.
Giordano's operates 51 restaurants in Illinois, Florida and Indiana.
 
Please enable JavaScript to view this content.