A prime piece of real estate along College Avenue in the Meridian-Kessler neighborhood is on the market.
AT&T has hired the local office of Jones Lang LaSalle to coordinate the bidding process for the two-acre property that sits south of Kessler Boulevard.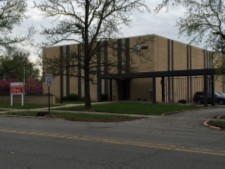 The sale includes the phone company's parking lot and office building. The larger, switching building to the north is not part of the package.
"AT&T determined this was an opportune time to initiate a sale of the 5858 N. College Ave. building and adjacent parking lot," an e-mailed statement from the company said. "No employment changes are expected as a result."
The property is expected to generate strong interest from developers eyeing the parcel for a retail and residential project.
Scott Lindenberg, whose Reliant Partners Commercial Realty firm is constructing a two-story retail and office building just north of Kessler, is quite familiar with the AT&T land.
"It's a good piece of real estate," he said. "Not assembling it all—that presents some obstacles and gives you a little less flexibility. But overall, I like it."
Within just a one-mile radius of the site, 40 percent of residents have a bachelor's degree with an average household income of $96,321, according to a marketing brochure.
Offers are due by 5 p.m. May 18.
John Robinson and Denice Michel of Jones Lang LaSalle are listing the property.
 
Please enable JavaScript to view this content.