The former headquarters of the Indianapolis Star is slowly succumbing to the wrecking ball.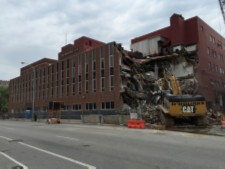 Demolition started Monday at the rear of the building on East New York Street and is progressing west.
The building is being razed to make way for a mixed-use project with retail space and 478 apartments known as Pulliam Square.
Developer TWG Development LLC intended to retrofit most of the building into apartments, but chose to shelve that plan after concluding that the structure's odd configuration would make the project too difficult, as IBJ reported April 7.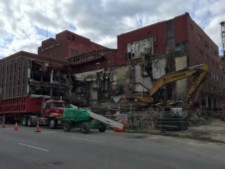 The five-story first phase of the project, a new building at Delaware and New York streets with 145 apartments and about 13,000 square feet of ground-level retail space, is under construction.
Occupancy should start next month with the first retail tenant, The Tap, opening in September and taking nearly 6,900 square feet. TWG has fielded interest in the remaining retail space but has yet to receive commitments.
Demolition of the former Star building could take five months.
The Star began publishing from the Pennsylvania Street location in 1907 and stayed for more than a century before moving in September to part of the former Nordstrom space in Circle Centre mall.
Please enable JavaScript to view this content.