The Eagle restaurant is still planning to open on Massachusetts Avenue but not where previously thought.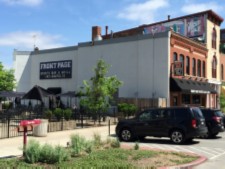 Co-owner Joe Lanni told Property Lines on Tuesday that The Eagle, part of the Cincinnati-based group that operates the popular Bakersfield eatery on Mass Ave, has signed a lease to occupy the building at the head of the Avenue now occupied by The Front Page Sports Bar & Grill, which will close.
Property Lines reported in March that The Eagle, known for its signature fried chicken, would take some of the retail space that Stout's Shoes is vacating at 318 Massachusetts Ave. The store is next door to Bakersfield at 334 Massachusetts Ave.
Stout's Shoes President Brad Stout told Property Lines that Bakersfield instead will expand into 800 square feet of his space, leaving about 1,600 square feet for another restaurant.
The Eagle hopes to open by Labor Day, Lanni said, noting that The Front Page building at 310 Massachusetts Ave. better fit the restaurant's needs.
"It has a huge patio that is very attractive," he said. "We plan to completely renovate it. It's not going to look anything like it does now."
Besides Mexican-themed Bakersfield and The Eagle, partners Joe Lanni and his brother, John, along with Alex Blust, operate Kreuger's Tavern in the Queen City.
It's unclear when The Front Page will close. The owner couldn't be reached for comment, and an employee at the bar said she didn't know.
Lanni said The Eagle hopes to retain as many Front Page employees as possible.
In other restaurant and retail news:
Daredevil Brewing Co. has begun brewing and is set to open its Speedway taproom to the public on June 17.
Shelbyville-based Daredevil built the microbrewery at 1151 Main St. after making a $3 million investment in the construction of the 10,000-square-foot production facility. Daredevil was founded three years ago by Bill Ballinger and brothers Michael Pearson and Shane Pearson.
Rue21 is taking the former Deb space at both Castleton Square and Greenwood Park malls. The Pennsylvania-based fashion apparel retailer has six stores in the metropolitan area: Speedway Super Center on Crawfordsville Road, Centre West on Lafayette Road, Plainfield Commons, Brownsburg Station, Village Park Plaza in Carmel, and Hamilton Towne Center in Noblesville.
Giant Eagle is proposing to build a GetGo gas station and convenience store at 8301 Rockville Road. The Metropolitan Development Commission is set to consider the proposal June 3.
The Pittsburgh-based supermarket chain received approval May 6 from MDC to demolish a historic church in Cumberland and rezone the property to build a GetGo. The City-County Council needs to grant final approval.
Closings:
Dots Fashions at 7235 N. Keystone Ave. in Norgate Plaza is going out of business. A store clerk said it's expected to close by June 30.  
The MCL Restaurant & Bakery location at 2121 E. 62nd St. closed Sunday after a 58-year run there. MCL has 16 locations in Indiana, Illinois and Ohio, including seven in the Indianapolis area.
 
Please enable JavaScript to view this content.