Yet another upscale steakhouse is coming downtown.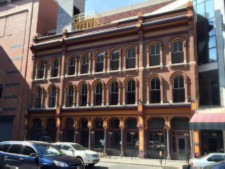 Cleveland-based Red, The Steakhouse plans to open next spring on the ground level of the four-story historic building at 14 W. Maryland St., across from the Yard House location that opened in March in Circle Centre mall.
"The pieces of the puzzle fit together so nicely with this location," said Jonathan Gross, Red Restaurant Group chief operating officer, in a prepared statement. "We are a Midwest company that is extremely comfortable with this clientele."
The 180-seat Indianapolis outpost will be Red's fourth. Red was founded in 2005 by CEO Brad Friedlander and has two locations in Cleveland and another in Miami Beach, Florida.
In Indianapolis, it will join an increasingly crowded downtown restaurant market, packed to the ribs with steakhouses.
Late last month, Keystone Realty Group announced that Hyde Park Prime Steakhouse, also of Cleveland, will occupy 8,000 square feet in the Illinois Building on the southeast corner of Illinois and Market streets. It also should open early next year.
Hyde Park and Red will join existing downtown steakhouses St. Elmo Steak House, Ruth's Chris Steak House, Shula's Steak House, Morton's The Steakhouse, Harry & Izzy's, Mo's … A Place for Steaks, Prime 47, Fogo De Chao Brazilian Steakhouse and The Capital Grill.
The building that Red will occupy was purchased in late 2013 by Jeff Laskowski, former CEO of Wood-Mizer Products Inc. on the west side.
Constructed in 1876, the Italianate structure is one of the oldest buildings in downtown. It was known as Elliott's Block and was home to Indiana News Co. after serving as a warehouse annex for L.S. Ayres Co.
An extensive renovation in 1999 transformed the space into an upscale restaurant known as Malibu on Maryland, with hotel suites on upper floors. It last operated as 14 West Restaurant and Suites, closing at the end of 2012.
Also downtown:
Georgia Reese's Southern Table & Bar opens Friday in McOuat Place at 14 E. Washington St., to the east of Jos. A. Bank.
Property Lines reported in December that owner and former Indianapolis Colts linebacker Gary Brackett had plans for a second Georgia Reese's. He opened his first in September at 3454 W. 86th St. on the northwest side.
The restaurant opens at 4 p.m. and will begin serving lunch at 11 a.m. on May 27.
 
 
Please enable JavaScript to view this content.