The flagship Scotty's Brewhouse on East 96th Street—the local chain's first outpost in Indianapolis—will undergo a major renovation this summer that will force the restaurant to close for about a week.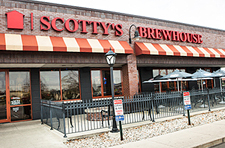 Owner Scott Wise says he's preparing to plow $500,000 into the location at 3905 E. 96th St. that opened in 2006. Work should begin in the next few weeks—much of it during the overnight hours when the restaurant is closed—and finish in early August.
The restaurant, however, will need to close in mid-July for about a week, Wise said.
"It's a pretty substantial remodel," he said. "It's a scrape and redo."
Aesthetically, the walls in the center of the restaurant will be removed to open up the space, and the bar will be redone. All televisions and tables will be replaced and a garage door will be added on the side of the building giving patrons easier access to the patio.
Outside, awnings and signage will be replaced.
The aim is to freshen up the space and give it the same look as the newer Noblesville location set to open at the end of July at 146th Street and Hazel Dell Parkway. That's the former La Hacienda space.
An addition to the menu is in the offing, as well. Wise is installing a pizza oven in the kitchen and adding pizzas to the menu. He'll do the same at the downtown location.
The East 96th Street restaurant often is the top performer in the Scotty's chain, Wise said.
Also in July, Scotty's will open at the Hillview Country Club in Franklin. Another will launch by the end of the year, in Punta Gorda, Florida—the first Scotty's outside of Indiana.
The additions will bring the number of Scotty's restaurants to 13.
In other restaurant news:
• Louie's Wine Dive & Mass. Avenue Kitchen is set to open Friday at 345 Massachusetts Ave. in the Massala Building. Louie's has locations in Minneapolis; Des Moines, Iowa; Kansas City, Missouri; and Omaha, Nebraska.
• Sangiovese Ristorante is slated to reopen June 5 at Ironworks at Keystone, joining Ruth's Chris Steakhouse at the mixed-use development at the southwest corner of 86th and Keystone Avenue.  
Sangiovese has been absent from the local culinary scene since September after owner Chris Evans declined to renew his lease at 4110 E. 82nd St. in the Rivers Edge shopping center. Giordano's pizzeria since has taken the space.
In celebration of the grand opening, Sangiovese will donate 25 percent of all proceeds to the Indiana Chapter of the American Foundation for Suicide Prevention.
 
• Gandolfo's New York Delicatessen has filed plans to open at Anson Marketplace on Whitestown Parkway west of Zionsville.
The Salt Lake City-based deli also has local outposts in downtown's CityWay development, in addition to Greenwood and Noblesville.
 
Please enable JavaScript to view this content.