City "public hearing" signs posted at two properties just blocks from one another in Fletcher Place further exemplify the continued resurgence of the southeastern downtown neighborhood.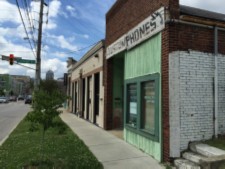 At 638 Virginia Ave., Pizzology owner Neal Brown is looking to open a taco eatery with patio dining in the small, vacant building with the nostalgic "Custom Phones" sign still hanging from the façade (see top photo), according to neighborhood development sources.
Brown didn't return phone calls seeking comment. Indianapolis Historic Preservation Commission staff told IBJ that a restaurant project slated for the property would be considered at the commission's August meeting. The request was filed by Fountain Square-based architecture and design firm Blackline Studio.
Brown operates Pizzology restaurants on Massachusetts Avenue and in Carmel, in addition to the Libertine Liquor Bar on Mass Ave.
Just a few blocks from where Brown wants to open the taco place, a small local developer has filed plans with the city to renovate two structures at the northeast corner of South College and Lexington avenues (see bottom photo).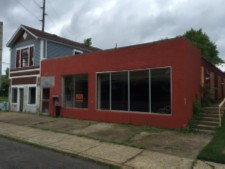 Built in phases, the newest part, to the west, is two stories. Plans call for commercial use on the ground level with an apartment above. The original one-story portion of the building, to the east, dates to the 1920s and once housed a neighborhood supermarket, said Paul Puzzello of Puzzello Architecture, who is working with the developer.
Returning the space to its former use as a small grocery would be ideal, he said.
"We want to replace what has been there and go on with the spirit of the building," Puzzello said. "It's not the owner's intention to put a generic convenience store there."
The building is zoned residential, despite its past commercial use. The developer is seeking a variance to allow for commercial tenants. IHPC could hear the request in July.
Please enable JavaScript to view this content.