One of downtown's most iconic signs has a new look.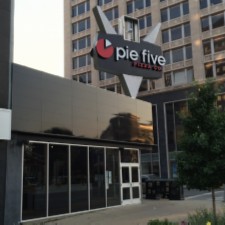 The nostalgic-looking billboard atop the one-story building at the northwest corner of Washington and Pennsylvania streets now sports a more modern-looking design courtesy of Pie Five Pizza Co.
The fast-fire pizza chain from Dallas plans to open on July 24 in the space at 48 E. Washington St. For many years it was occupied by a Roselyn Bakery store, which was responsible for the oddly shaped sign.
Pie Five revamped the color scheme of the sign and the building's exterior, with black now the dominant color. The outline of the sign, dominated by a large "V" shape, might strike some as thematically appropriate. The shape resembles a pizza slice, and the Roman numeral V means "five."
If proposed today, the freestanding sign wouldn't be allowed under current downtown zoning rules, but it has been grandfathered in as an exception.  
The building had been vacant since Dunkin Donuts left in 2013. Other recent tenants included a Panda Express Chinese restaurant and, of course, Roselyn Bakery.  
Roselyn Bakery was founded in Indianapolis in 1943. The confectionary mainstay in 1999 shut down 34 stores in Marion and surrounding counties, following revelations of insect and rodent infestation at its production bakery.
 
Please enable JavaScript to view this content.