A South American-themed restaurant is coming to the SoBro neighborhood along the College Avenue foodie corridor.
Indianapolis native Brian Baker plans to start serving patrons late this fall from his Open Society Public House at 4850 N. College Ave.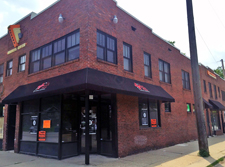 That's the space in the Uptown Business Center next to the Upland Brewery and last occupied by the Paw Patch Veterinary Hospital. Baker also is taking the space to the rear of the building now occupied by Agrarian Urban Homestead & Supply. The latter is moving in September to East 54th Street near the Monon Trail where Vibes Music used to be.
All told, Baker's Open Society Public House will occupy more than 2,700 square feet in the building at the southwest corner of College Avenue and 49th Street.
The menu will lean heavily toward South American cuisine. Baker plans to serve breakfast, lunch and dinner, offering quality food and quality drinks at affordable prices, he said. Accompaniments will range in price from $3 to $6; small plates $8 to $12, and large plates $15 to $20.
The College Avenue corridor is swelling with locally based eateries. Baker's space is catty-corner to Greg Hardesty's celebrated prix-fixe spot, Recess, which opened in 2010. Latin restaurant Delicia opened in 2013 near the northeast corner of College and 52nd Street, followed soon after by sibling La Mulita next door. Other notables on College include Taste and SoBro Cafe on 52nd Street and Yats and Twenty Tap on 54th Street.
Baker has no visions of grandeur about becoming a star on the local culinary scene but thinks he can contribute to its surge.
"I just want to build on the recent movements and growth that the city has experienced the past few years, and I want to lend my personal vision and concept to it," he said.
The 25-year-old graduate of the Indiana University Kelley School of Business left Indianapolis for New York in 2012 for a consulting gig before "getting cold feet" and instead opting for culinary school. He earned a degree in culinary management from the Institute of Culinary Education.
Baker will own and operate his restaurant and leave the cooking duties to a trained chef, whom he's in the process of hiring.
While in New York City, Baker worked at famous foodie Michael Chernow's The Meatball Shop and was offered a management position at his new Seamore's fish diner. Baker had no plans to leave the Big Apple, until his dad convinced him otherwise.
"My father explored every opportunity to get me back here," Baker said.
 
Please enable JavaScript to view this content.