The vacant lot along East Washington Street that Irvington officials are marketing for redevelopment has yet to attract any offers. But an architect's rendering that's been unveiled at least gives neighborhood residents an inkling of what could be built there.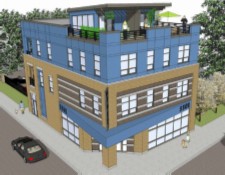 The conceptual drawings by locally based Halstead Architects depict a three-story building with a rooftop patio that ideally would house retail on the lower level and apartments above.
"Psychologically, after seeing the renderings, it's easier to realize that this little 'postage-sized' lot could once again hold a substantial building," the Irvington Development Organization wrote on its website.
Strong storms in November 2013 toppled much of the former post office building at the corner of Washington and Ritter Avenue, which had stood for 110 years.
IDO and the Irvington Historical Society bought the building and were in the process of stabilizing it to attract a commercial buyer. IDO has listed the 49-foot-by-120-foot parcel for $25,000 and is seeking proposals from developers.
The renderings have been well received by the neighborhood, said Deb Kent, an Indianapolis real estate agent and Irvington resident who is listing the property.
"People who said they were on the fence [about redeveloping the site] felt differently after they saw the renderings and realized what was possible for that corner," she said.
The renderings also received a favorable response from staff members of the Indianapolis Historic Preservation Commission, who reviewed them to simply provide feedback, IDO said.
The site could get a boost from the imminent completion of the nearby Pennsy Trail, IDO said, which runs along the abandoned Pennsylvania Railroad line. Eventually the trail is expected to run from the east side of Indianapolis, through Cumberland and into Greenfield.
Please enable JavaScript to view this content.