A proposal to build 30 apartments on a site next to downtown's historic Madame Walker Theatre is set to be considered Thursday by the city.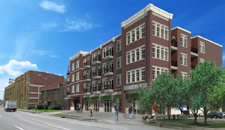 An entity called Olaf Lava LLC has filed to construct the units and a parking garage on a surface lot on the 0.58-acre site at 632 Dr. Martin Luther King Jr. St., which is north of the theater on the same block. The developer also would renovate a century-old structure that sits on the same property and between the theater and the proposed apartments.
The developer originally wanted to demolish the two-story structure. But plans now call for an office and resident workout facility on the first floor with a single apartment above, according to the city filing.
The proposed 30-unit apartment building primarily would stand four stories, with a small three-story section facing the existing two-story structure to provide for a "step-up" appearance, the filing says.
The new building's façade would primarily be brick, with cast stone detailing, to complement the look of the existing structure and the theater.
The Metropolitan Development Commission Regional Center Hearing Examiner is set to weigh the project at 10 a.m. Thursday. City staff recommends approval of the proposal, contingent upon satisfying certain recommendations.
The architect on the project is Indianapolis-based Studio Three Design.
County records show Olaf Lava bought the property in May for $550,000 from George Greene, who previously had agreed to sell it to the theater.
But in 2011 Greene filed to foreclose on the parcel, charging that he was owed $859,655 in principal on a $990,000 loan taken in 2006 by directors of the not-for-profit that operates the downtown theater. The case was closed in February 2014, court records show.
The four-story, 48,000-square-foot Madame Walker building at the corner of Indiana Avenue and Martin Luther King Jr. Street houses the theater, a ballroom and several offices rented to not-for-profits and a handful of small, black-owned firms. It also houses the Madam C.J. Walker Museum, which honors the woman who built an Indianapolis grooming-products empire in the early 1900s.
 
Please enable JavaScript to view this content.