A local developer no longer is pursuing plans to build a five-story office building on the site of a closed American Legion post in Broad Ripple.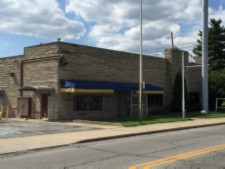 But another proposal has emerged from a small real estate brokerage firm located in the neighborhood to renovate the space at 6440 Westfield Blvd. and move its office there.
Veritas Realty has filed with the city, under the Monon Crossing II LCC entity, to rezone the nearly one-acre site for office use. The Monon Crossing entity shares the same address as Veritas, 930 E. 66th St. in Broad Ripple, and was created June 8, according to state records.
The sale of the property from developer Brougher Investments to Veritas is not on file yet at the county assessor's office. But real estate sources say the retail brokerage has purchased the site and wants to move its office there.
Kyle Hughes, partner and managing broker for Veritas, declined to comment on the project Thursday when contacted by Property Lines. A phone call to Brougher Investments was not returned.
County records show Brougher Investments paid nearly $1.3 million in March 2014 for the property adjacent to the Monon Trail, just south of East 65th Street and west of the White River.
Brougher's plan called for an 85-foot-tall office building, which would have been the highest in the village, even topping by 10 feet Browning Investment Inc.'s retail-and-apartment development that's in the works on College Avenue north of the Central Canal.
Moving a cell phone tower on the Legion property to make way for the office building proved too difficult and ultimately derailed Brougher's project, sources said.
Veritas' request to rezone the property could be heard Thursday, if the Metropolitan Development Commission's hearing examiner waives a re-filing rule that requires a three-month wait before any petition can be re-filed on the same site.
Because Brougher withdrew its rezoning request May 28, Veritas may need to wait until Aug. 28 to file.
 
Please enable JavaScript to view this content.