Indiana Landmarks is inviting the public to tour the vacant Beth-El Temple on the city's near-north side and offer suggestions on how the historic building should be repurposed.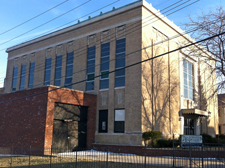 The preservationist group in February 2014 paid $50,000 to rescue the tax-delinquent temple at 3359 N. Ruckle St., near East 34th Street and Park Avenue in the Mapleton-Fall Creek neighborhood.
Community Development Block Grant funds totaling $100,000 from the city and a $110,000 match from the Central Indiana Community Foundation's Efroymson Family Fund enabled Indiana Landmarks to install a new roof on the structure.
Now Indiana Landmarks and Temple Heritage Center, a group created to rescue the building, want the public's feedback. Beth-El Temple will be open for tours free of charge from 5 p.m. to 7 p.m. Aug. 27.
Opening in 1925, it's the oldest synagogue building remaining in the city. Beth-El worshipped there until 1958, when it moved north to its present location on West 70th Street. Another Jewish congregation, B'nai Torah, occupied the building until 1968, when it too moved north, to West 64th Street and Hoover Road.
Three Christian congregations inhabited the structure at different times, until about 10 years ago. The property ultimately ended up on the Marion County tax-sale list of delinquent properties.
It was designed by the local architectural firm Vonnegut Bohn and Mueller, whose work included city landmarks such as the Athenaeum and downtown L.S. Ayres building.   
Tour reservations can be made online at templelook.eventbrite.com or by phone at 639-4534.
 
Please enable JavaScript to view this content.