Mike Cunningham is opening yet another restaurant in the Mass Ave area.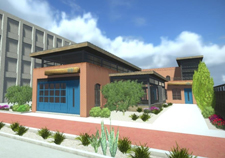 The owner of Mesh, Bru Burger and Union 50 says he has agreed to occupy the historic but dilapidated building at 720 N. College Ave. that's set to be redeveloped by Indianapolis-based Zink Architecture & Development.
Zink, which is in the process of buying the building from its present owner, received approval Wednesday from the Indianapolis Historic Preservation Commission to move forward with its plans.
The restaurant will be called The Livery, in an ode to the building's original use. With a second level at the rear, the structure dates to the 1890s, although several additions were made up until the 1930s. Many of the walls are crumbling, there's no plumbing or electricity, and the second floor is in such poor shape that it's too dangerous to walk on.
"We're still deciding which direction we want to go with the menu," Cunningham said, "but it will have a heavy bar component to it."
The dinner-only eatery should seat about 140 inside and 60 outdoors. Entrees will be priced under $20.
"We want it to be more of a neighborhood gathering place," Cunningham said.
Zink received partial approval in February from IHPC, allowing the developer to at least move forward to stabilize the structure before returning to present final plans.
Plans now show a smaller rooftop deck than what was originally proposed, the green wall at the front is gone, and the garage door-like entrance gives the façade a more industrialized feel.
Cunningham is shooting to open in April. Phanomen Design is the architect on the project.
Meanwhile, construction is under way on the building he bought at 601 E. New York St. that formerly housed Amici's Italian Restaurant.
The new restaurant and test kitchen should open sometime in November, Cunningham said. and feature a changing menu ranging from 12 to 15 entrees between $8 and $30.
 
Please enable JavaScript to view this content.