Indianapolis for several years now has been a target of expansion for Dunkin' Donuts.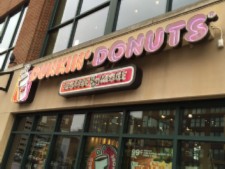 The Boston-area-based coffee and pastry chain returned to the metropolitan area in 2007 with plans to open 80 franchised stores within the next eight years. Fast-forward to 2015, and the company boasts a grand total of 14 in the local market.
But a franchisee of the chain that arrived in Indianapolis less than a year ago is prepared to give it another shot. The Mount Vernon, N.Y.-based company bought the stores from previous owners and plans now to open 31 additional locations within the next seven years.
"It's just a terrific market for Dunkin'," franchisee Alex Smigelski said, "one where the previous franchisees did a good job but just needed a little more experience to push them over the hurdle."
Smigelski, with his partners Tom Hughes, Tom Carpenter and John Weis, operate 70 stores in six states: Connecticut, New Jersey, New York, North Carolina, Pennsylvania and Indiana.
The first outpost as part of the Indianapolis expansion is poised to open early next year, at the Villages of Anson on Whitestown Parkway in Whitestown.
Besides the 14 stores in Indianapolis, the franchisee team has five in Fort Wayne. It plans to open a total of 38 locations between the two cities—31 in Indianapolis and seven in Fort Wayne.
"We're very excited to be in Indiana," Smigelski said. "We think that [Dunkin' matches] up very well with the consumer base."
In other restaurant news:
Nourish Innovative Local Cuisine & Cocktails at 931 S. East St. closed Sept. 8. The eatery, housed across the street from the Eli Lilly and Co. campus in what used to be a Laundromat, just opened in May. Owner Varinder Sahi told Property Lines that the large corporate lunch crowd he expected from Lilly never materialized.
"I tried as long as I could," he said. "It was definitely not the location. It was the concept of fresh, healthy, organic food. Maybe it's a little too early for Indiana."
Sahi, a first-time restaurateur who lives in the neighborhood, owns the bulding and said he'd be open to leasing it to another restaurant tenant.
Check out the June dining review from IBJ Arts & Entertainment Editor Lou Harry.
 
Please enable JavaScript to view this content.