Property Lines has a plethora of retail openings to report from all over the metro area, and even a few closings:
• Hops & Fire Craft Tap House is taking 6,800 square feet in Greenwood at 1259 State Road 135 south of West Smith Valley Road. The space was last occupied by The Melting Pot.
John Barto, who operates Indiana State Fairgrounds caterer Barto's Catering & Concessions, is launching the tap house and restaurant and hopes to open by Nov. 1.
Hops & Fire will boast more than 40 craft beers on tap and a menu of "pub comfort food" that features steak and seafood, Barto said. Items will range from $9 to $23.
The restaurant will seat 350, including a 40-person private room.
More in Greenwood:
• House of Thai has filed plans to open at 275 South State Road 135 in Greenwood in 2,795 square feet of space formerly occupied by a Mattress Source store.
It should be serving customers by the end of the year, said owner Kandya Browning. Dinner items will range from $12 to $15.
Browning also operates Thai Orchid in Castleton and Plainfield, and Pad Thai in Carmel.
In downtown: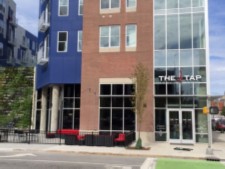 • The Tap opened Sept. 26 in Pulliam Square downtown. The tavern and restaurant that carries a massive menu of beers took 6,870 square feet at the corner of New York and Delaware streets, where the first phase of Pulliam Square is finished.
Owner Nathan Finney will host a grand opening Oct. 3. Hours are 11 a.m. to 1 a.m. Sundays through Thursdays and 11 a.m. to 2 a.m. on weekends.
Finney launched The Tap in Bloomington at 101 N. College Ave. in late 2012.
• Bacon Legs & Turntables at 1 N. Meridian St. is "closed temporarily for remodel," according to a sign on the door. The restaurant opened in the King Cole building in December.
On College Avenue:
• Scandinavian Comfort opens Thursday in space next to Binkley's Kitchen & Bar at 5914 N. College Ave., formerly occupied by Fine Estates & Rugs and Gallery Two in the Meridian-Kessler neighborhood.
The local modern furniture retailer also has a store on East 82nd Street in Castleton.
• City Moto at 4911 N. College Ave. is moving next door into the former Lava Lips space, and a second Rocket 88 craft doughnut shop is moving into City Moto's space.
Rocket 88 opened in Fountain Square at 874 Virginia Ave. in December and has launched a Kickstarter campaign to help fund the second location, according to its website.
At Ironworks:
• Orangetheory Fitness has signed a lease to occupy space on the ground level of the Ironworks apartment-and-retail complex at 86th Street and Keystone Avenue. The fitness facility should open early next year.
The Fort Lauderdale, Florida-based franchise opened in April at 2438 E. 146th St. in Carmel.
• G Michael Salon also is expected to open early next year, at Ironworks. The salon has an existing location in Noblesville.
Elsewhere in the city:
• Cultured Swirl at 1026 Virginia Ave. in Fountain Square closed Sept. 19. A message on the frozen yogurt shop's Facebook page thanks customers for their support.
• Javier's Hacienda Mexican Cuisine at 2444 E. Washington St. is closed "due to maintenance," according to a sign on the door. Formerly known as El Sol De Tala, the restaurant reopened as Javier's in August 2014 under original El Sol owner Javier Amezcua.
• A Walmart Neighborhood Market opened Sept. 30 at 4837 S. Kentucky Ave. on the city's southwest side. The 41,000-square-foot store offers a pharmacy and free store pickup service for items purchased online.
The store is the Arkansas-based discount retailer's eighth Neighborhood Market in the metro area.
In Hamilton County:
• Market District, the state's first Giant Eagle Inc.-owned grocery store, is set to open Oct. 7 in Carmel.
The 125,000-square-foot store is located at 11505 N. Illinois St. within The Bridges development that already features a CVS Pharmacy and retail building on the north side of the property.
• Bash Boutique, a Wabash-based retailer specializing in women's boutique apparel opened Oct. 1 at 149 N. Walnut St. in downtown Westfield.
The store offers more than 1,000 square feet of retail space to showcase apparel as well as a variety of accessories, fragrances, jewelry, and gifts, including its own branded signature soaps and lotions.
• A DQ Grill & Chill built at 9800 N. Michigan Road in Carmel opened Sept. 25. The 3,300-square-foot Dairy Queen seats 72 and is open daily from 10 a.m. to 10 p.m. Franchisee Gavin Hart also is building a Hoosier Market/Marathon gas station at the site, similar to what he did at 91st and Meridian streets. 
• beauty + grace opened in Carmel City Center near South Rangeline Road and City Center Drive. The upscale women's clothing boutique carries items from 20 designers. Hours are Monday through Friday 9:30 a.m. to 6 p.m. and Saturdays 9:30 a.m. to 4 p.m.
In Brownsburg:
• Crew Carwash plans to open in December in Brownsburg, at 1275 N. Green St. north of Interstate 74. The $4 million facility will be the company's first since separating from Mike's Carwash in October 2014.
The carwash will feature an exclusive lane for Unlimited Wash Pass customers allowing them to bypass traditional lines for quicker service.
 
Please enable JavaScript to view this content.