The hot downtown lodging market has attracted interest from yet another hotel operator.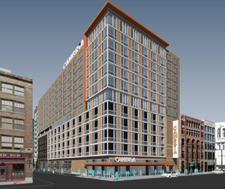 A Rockville, Maryland-based company is floating plans for an 11-story hotel on a surface parking lot on South Meridian Street about four blocks south of Monument Circle.
Choice Hotels International has filed plans and renderings with the Indianapolis Historic Preservation Commission, which will get its first glance at the proposal Wednesday afternoon during a preliminary review. No recommendations or decisions will be made.
Plans call for a 193-room Cambria Hotel & Suites to be built at the northwest corner of South Meridian Street and Jackson Place, on the surface lot just south of Station Place and its first-floor tenant, The Old Spaghetti Factory. (See rendering above.)
Above the ground-level lobby area for the hotel, floors two through four will house a 164-space parking garage, according to the plans. The fifth floor will contain a fitness area and indoor pool, as well as an outdoor deck and 19 guestrooms. Remaining rooms will be located on floors six through 11.
The east façade facing South Meridian Street primarily would be glass with an aluminum frame and terra cotta grilles. The south façade would mostly be brick, to correspond to the surrounding Wholesale District, Choice Hotels says in its plans. Projects in the district fall under IHPC purview.
The architect for the project is Ratio Architects Inc.
Choice already has Cambria locations in Noblesville near Hamilton Town Center and Plainfield near Indianapolis International Airport. Choice introduced the upscale, all-suite Cambria concept in early 2005.
The cost of the hotel was not immediately clear. Cambria officials did not respond to a call from IBJ on Monday.
If a Cambria gets the go-ahead for downtown Indianapolis, it will be among several new hotels slated for the central business district.
A 102-room, $15 million boutique hotel is in the works as part of the redevelopment of the historic Consolidated Building at 115 N. Pennsylvania St. The Home2 Suites by Hilton is a joint venture between East Lansing, Michigan-based HRC Hotels LLC and Valparaiso-based Good Hospitality Services LLC.
The Illinois Building at Illinois and Market streets will be home to a Canopy by Hilton. McLean, Virginia-based Hilton Worldwide is rolling out the new brand in 10 cities nationwide.
And Louisville-based 21c Museum Hotels plans to build a hotel on a surface parking lot north of the old City Hall at Ohio and Alabama streets as part of a larger, $55 million redevelopment of the property.
In addition, Illinois-based Hillcrest Development Inc. plans to build a $17 million, 140-room extended-stay TownePlace Suites by Marriott hotel two blocks east of Lucas Oil Stadium.
 
Please enable JavaScript to view this content.