Welcome to the Fletcher Place/Fountain Square edition of Property Lines: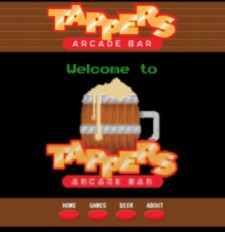 • The long-awaited arrival of the Tappers retro arcade bar is nearing. Owners Jeff Moulton and Austin Howard have signed a lease to take space on the ground level of the Slate apartment development under construction on Virginia Avenue in the Fletcher Place neighborhood.
Tappers should open in January, they said, and occupay 2,500 square feet. The unique concept will combine retro arcade games—Asteroids, Donkey Kong and Space Invaders to name a few—with local craft beers.
The "barcade" will feature at least 30 games, four pinball machines and 12 taps.
Moulton and Howard raised $30,000 through IndieGoGo to help launch Tappers.
• In Slate, Tappers is taking space next to where Rook is relocating. The Asian fusion restaurant closed in September at 719 Virginia Ave. and expects to reopen in December. Deylen Realty's Slate mixed-use apartment project, which is nearing completion, has 3,500 square feet of retail space left, from a total of 10,000 square feet.  
In Fountain Square:
• Fountain Tap is "coming soon" to 1044 Virginia Ave. according to a sign in the window of the space south of Bovaconti Jewelers.
Ryan Greb, who operates Taps & Dolls at 247 S. Meridian St. downtown, said he's unsure when Fountain Tap will open. But the project seems to have encountered a delay.
The city's Property Safety and Maintenance Services placed a stop work order on the project for an interior remodel started without permits, a Department of Code Enforcement spokesman said. The owner has yet to apply for the necessary permits, he said. Also, code enforcement is in the process of determining off-street parking requirements, which may result in the need for a zoning variance.
• Vintage Vogue by Goodwill has filed to take 2,500 square feet at 1056 Virginia Ave., in the space formerly occupied by Antiques on the Square.
The boutique-style vintage clothing shop would be the second in Indianapolis for Goodwill Industries of Central Indiana. The first opened in June 2014 just west of Keystone Avenue at 2361 E. 62nd St. in the Glendale area.
• Pioneer opened Oct. 5 in the heart of Fountain Square in the 8,000-square-foot former home of Deano's Vino restaurant and wine shop at 1110 E. Shelby St.
The restaurant is operated by Indianapolis resident Bryce Caldwell and highlights the food of northeastern Italy and neighbors Austria, Germany and Switzerland.
Pioneer seats 125 and features a performance stage.
 
Please enable JavaScript to view this content.