A former Indianapolis Public Schools building in the Fountain Square area will be demolished to make way for a $12.5 million apartment project.
Milhaus Development LLC is paying IPS $1.1 million to buy the Center for Instructional Radio and Television at 931 Fletcher Ave.
CIRT was built in 1969 to house IPS radio station WIAN. IPS sold the station in 1986 to Indianapolis Public Broadcasting, owner of WFYI-TV Channel 20, and the call letters were changed to WFYI-FM 90.1. The station moved to 1630 N. Meridian St., and IPS continued to own the building, closing it in 2014.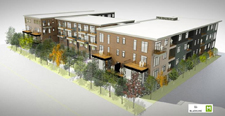 Milhaus plans to begin tearing down the 17,200-square-foot building yet this year and start delivering for occupancy the first of 82 total units in about 12 months.
Apartments in the four-story building will range from studios to three-bedrooms totaling 550 square feet to 1,500 square feet. Monthly rents for the smallest units will be in the $900 range, said Jake Dietrich, Milhaus' director of development.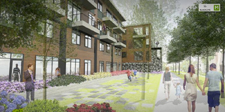 Milhaus developed the 65-unit Mozzo in Fletcher Place along Virginia Avenue, which consistently has a waiting list, Dietrich said.
"That's what attracted us to this project, because [Mozzo] has been so good for us," he said. "And the Fountain Square area is obviously on fire right now, from a real estate perspective."
Milhaus on Oct. 21 requested a zoning variance from the city's Metropolitan Development Commission to construct the apartments, which members narrowly approved by a 4-3 vote.
Three neighborhood residents who live near the site voiced their concerns about the additional traffic the project would create.
Blackline Studio is the architect for the project.
Including the CIRT building on Fletcher Avenue, IPS has accepted offers on three of six properties that it put up for bid in June.
Please enable JavaScript to view this content.