Some victual treats to report to brighten your Halloween: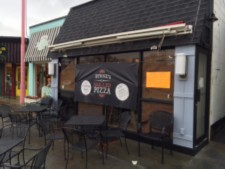 • Byrne's Grilled Pizza expects to open early next month at 5615 N. Illinois St. in the Butler-Tarkington neighborhood in space formerly occupied by Oh Yumm! Bistro. Owner Patti Crahan closed the bistro in mid-September to "semi-retire," according to its Facebook page.
Launched from a food truck in 2011, Byrne's Grilled Pizza is operated by Ken and Dot Reinstrom, who named their business after former Holy Cross Catholic Church pastor Jim Byrne. One of Byrne's top-selling pizzas: the Confession.
• Vireli's Fine Dining is set to open in the building near Michigan Road at 3851 Vincennes Road on the northwest side formerly occupied by O'Charley's. A grand-opening event is slated for Dec. 18.
Vireli's will offer steaks, seafood and burgers in addition to "relaxing" live music nightly.
• Ferguson Appliance Gallery is set to open Nov. 2 at 4705 E. 96th St. in 10,000 square feet of space next to Arni's in the River Ridge Crossing retail center.
The gallery is the Newport News, Virginia-based Ferguson's first appliance store in Indianapolis. The company hired 11 former employees of defunct Clark Appliance to help staff the store, Ferguson said.
Downtown:
• 36 Degrees sports bar has opened in what seems to be the snake-bitten space at 36 E. Washington St., previously occupied by Coal Pizza and then 36 East. The establishment is open for lunch.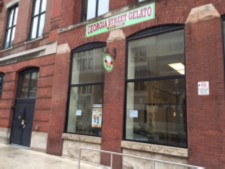 • Georgia Street Gelato is opening in space between Hooters and The Spaghetti Factory in Station Place downtown.
• 3 Days in Paris in City Market is kicking off its re-launch under new ownership Nov. 13. Colleen Dobbs opened the crepe place in early 2011 and sold it in August to self-described foodies Joe Hamgeri, 27, and Ian Illig, 24.
Patrons can stop by from 7 a.m. to 10 a.m. Nov. 13 to meet the new owners and grab a complementary crepe from the redesigned menu.
Hendricks County:
• Fresh Thyme Farmers Market is continuing its rapid expansion in the metropolitan area with plans to open a store in Avon. Carmel developer Lauth Group Inc. has filed plans to build a 28,900-square-foot store at 9110 Rockville Road on the west side for the Phoenix-based specialty grocer.
Fresh Thyme has three stores in Indianapolis at 4225 E. 82nd St., 2342 W. 86th St., and 8750 U.S. 31, as well as one each in Carmel and Fishers. A Fresh Thyme also is slated to anchor Browning Investments' $37 million apartment and retail project along the Central Canal in Broad Ripple.  
• On the chain front, Panera Bread has filed plans to build a restaurant at 320 S. Perry Road and Chipotle has plans for a location at 350 S. Perry Road in Plainfield near The Shops at Perry Crossing, formerly known as Metropolis Mall.
A couple of closings:
• Einstein Bros. Bagels at 5999 Crawfordsville Road, west of Indianapolis Motor Speedway, shut its doors.
• USA Party Supplies at 3479 W. 86th St. in College Park Plaza on the northwest side is going out of business.
 
Please enable JavaScript to view this content.