A couple of restaurant and cafe openings lead off the latest roundup:
• Marrow at 1106 E. Prospect St. in Fountain Square will begin serving dinner Nov. 3.
John Adams, formerly of Bluebeard in the Fletcher Place neighborhood and Plow & Anchor Restaurant downtown, is teaming with Brain Epstein, the listing agent for the space, to open the restaurant.
Marrow's small and large plates are priced under $30 and feature global soul food with a heavy slant toward Asian fare.
The restaurant seats 90, including the bar, which features Tiki-type cocktails. Bar manager Darren Block is a partner in the deal.
Hours are 5:30 p.m. to 12:30 a.m. Tuesday through Thursday and 5:30 p.m. to 1:30 a.m. Friday and Saturday.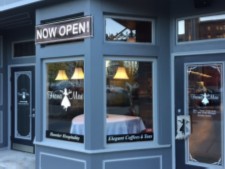 • Frona Mae Dessert Cafe opened Nov. 2 at 38 E. Washington St. in the space formerly occupied by The Libertine Liquor Bar, which moved into the same building with Pizzology at 608 Massachusetts Ave.
The cafe features house-made desserts, artisan tea and coffee, wine pairings and lunch specials.
Hours are Monday through Thursday 11 a.m. to 9 p.m. and Friday and Saturday 11 a.m. to midnight.
• Hoaglin to Go on Massachusetts Avenue plans to open a second downtown location, in the new YMCA set for completion in December at Delaware and South streets, according to the Indianapolis Star.
Hoaglin's menu will feature soups, salads, sandwiches, smoothies and full-coffee service and French toast, waffles and Hoaglin's popular red velvet pancakes for breakfast.
Hours will be 6:30 a.m. to 8 p.m. Monday through Friday, 8 a.m. to 5 p.m. Saturday and 11 a.m. to 5 p.m. Sunday.
• Love Your Body Yoga & Loungewear Boutique has opened at 1726 E. 86th St. in Nora Plaza.
Owner Lisa Berry is a Butler University graduate, former executive director of the President's Council on Physical Fitness and Sports and champion ballroom dancer.
The boutique also sells shoes, accessories and bath and body products and is located next to All People Yoga Center.
 
Please enable JavaScript to view this content.