The old Broad Ripple American Legion building on Westfield Boulevard finally is about to be renovated for a new use.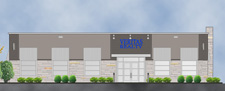 Commercial real estate firm Veritas Realty bought the building in July and next month plans to begin converting it into company headquarters. Veritas, now located about two blocks to the north at 930 E. 66th St., should move into its new space by summer.
Veritas plans to spend a total of $2.5 million, including the purchase price, to refurbish the one-story, 6,400-square-foot structure along the Monon Trail just south of East 65th Street.
"We have outgrown our current building but were passionate about staying in the neighborhood," Veritas Managing Principal Jamison J. Downs said in a written statement. "It was a fun challenge to secure a property that fit our unique criteria."
Veritas purchased the building from local developer Brougher Investments, which bought it in 2014 from the legion. Brougher failed to deliver a five-story office building on the site. At 85 feet, it would have been the tallest in the village.
Plans from Veritas aren't quite as ambitious but still should provide a nice upgrade from what sits on the site now.
The firm will increase the height of the building to nearly 20 feet to make it level all on four sides. The west side facing the Monon currently sits about seven feet lower. By raising the exterior walls, Veritas will shield the HVAC units and roof, creating a much more attractive view from the Monon, the firm said.
A large outdoor patio facing the Monon will be shaded by new trees and landscaping to promote outdoor meeting space for employees. Bike racks also will be furnished.      
Exterior stone along the building's perimeter will be refurbished, and new windows and glass doors will be installed.
Veritas also will install an exterior insulation and finishing system that includes a smart siding feature along the four corners of the building and above the front entry, and large, galvanized steel canopies above most windows.
Inside, an open floor plan will feature 28 work stations and six large skylights positioned throughout the hallways and work stations.
Founded in 2000, Veritas is a full-service commercial real estate firm concentrating on the retail sector. It manages and leases more than 4.5 million square feet throughout the country.
Managing principals are Downs as well as William T. Stoops III and Kyle T. Hughes.
 
Please enable JavaScript to view this content.