The YMCA of Greater Indianapolis on Thursday gave media members a sneak peak of its new downtown CityWay facility before it opens to the public Dec. 15.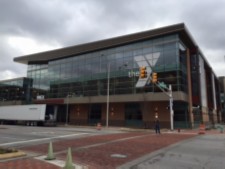 The $24 million, three-story building at the southeast corner of Delaware and South streets features an elevated running track with clear downtown views, two indoor swimming pools, three full-size basketball courts, and several workout areas.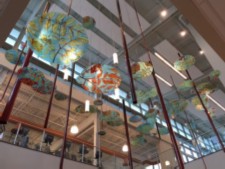 Greeting visitors in the lobby area is an artist's rendition of trees hanging from the ceiling. The artist, Stephanie Cochran, a student at the Herron School of Art and Design, spent time as a child at the Flat Rock YMCA camp southeast of Shelbyville, where her father was a director.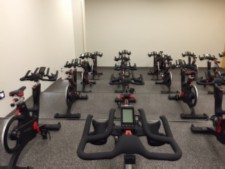 The ground level of the CityWay YMCA sports a child-care facility, teaching kitchen where healthy-cooking classes will be offered, a community room available for special events and the Hoaglin to Go cafe.
In addition, Franciscan St. Francis Health medical offices will occupy 13,000 square feet on the first and second levels.
Two swimming pools, two exercise rooms, a yoga studio and a group cycling room with 25 stationary bikes also are housed on the ground level.
A large workout area on the second floor boasts 107 pieces of cardio exercise equipment, in addition to the running track circling the basketball courts from above.
Outside, a rooftop garden awaits someone with the expertise to cultivate vegetables that perhaps can be used by a local restaurant.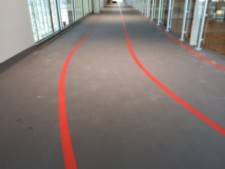 Forty percent of the exterior walls are glass, giving members outside views throughout much of the building.
And for the runners: 10 laps around the track equals one mile.
The architect for the project is Browning Day Mullins Dierdorf Architects.
Developed by Buckingham Cos., CityWay includes the 157-room Alexander Hotel, 320 apartments and 40,000 square feet of existing retail space.
Buckingham is planning a second phase of CityWay and should begin construction early next year.
 
Please enable JavaScript to view this content.