The developer of Pulliam Square is finalizing design plans for its long-anticipated second phase and expects to submit them to the city next month.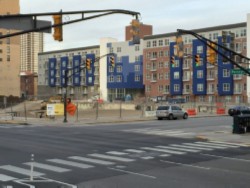 TWG Development LLC in May began demolishing the former Indianapolis Star headquarters to continue building its mixed-use project with retail space and a total of 478 apartments.
The five-story first phase, at the corner of New York and Delaware streets, includes 145 units as well as The Tap tavern and restaurant. Breakfast eatery Wild Eggs is expected to open in March.
Pulliam Square's first phase is 50 percent leased—an amount TWG is satisfied with, considering the developer is offering no rent concessions to tenants, company principal Dennis Dye said. Developers sometimes offer concessions in an effort to get their projects leased quickly.
TWG has held off on submitting design plans to the city on its second phase until occupancy hit a certain level, Dye said. In addition, TWG has increased the density of the second phase from what the developer originally expected, contributing to the delay in submitting plans.
TWG should file the plans by the end of February, Dye said, but is unsure when construction might start.
In the meantime, crews are busy filling in with dirt the gaping hole left by the demolition of the newspaper's former 190,000-square-foot headquarters at 307 N. Pennsylvania St.
TWG paid $11.25 million in May 2013 to buy the building and the 500-space parking garage from the Star's parent company, Virginia-based Gannett Co.
The developer had hoped to save the building. But its odd configuration, in which different levels didn't match up with one another, ultimately made developing the property into apartments too difficult. TWG decided to scrap the original plans.
The new building could stand nine stories, according to past TWG estimates. Overall, the company's investment in the entire project will total $63 million, about the same as originally projected.
The Star began publishing from the Pennsylvania Street location in 1907 and stayed for more than a century before moving in September 2014 to part of the former Nordstrom space in Circle Centre mall.
 
Please enable JavaScript to view this content.