Restaurateur Peter George and business partner Thomas Main are enjoying their run on East 16th Street since opening Tinker Street a year ago—so much so that they're now preparing to open another restaurant, across the street from the first.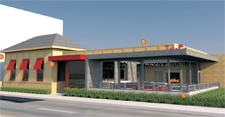 The two bought the tiny, dilapidated building at 407 E. 16th St. in 2014—the same time they purchased the structure that now houses Tinker Street.
They've been sitting on the property since. But the pair cleared a major hurdle on Jan. 6 when the Indianapolis Historic Preservation Commission approved their design for their new restaurant.
Yet-to-be-named, the eatery will serve a wide variety of Italian fare priced below $20—or about the same pricing that can be found at Tinker Street.
George and Main hope to open sometime in the summer. The architect on the project is Rottmann Collier Architects.
"We're totally committed to the area and the neighborhood," Main said. "We feel the support is absolutely there. It's been really, really incredible."
The building will seat 75 inside and another 15 on an outdoor patio area. It's been vacant for about a decade and last housed a taco and tamale stand.
The oldest section, to the rear, was built in 1905, according to city documents, and will be torn down, George said. The newer part, built in the 1920s, measures just 810 square feet and will be restored to mimic its original look.
The building originally housed a doctor's office and is among several historic structures along a portion of East 16th Street, from Alabama Street east to the Monon Trail, being retrofitted for restaurants, apartments or offices.
 
Please enable JavaScript to view this content.