Brothers Bar & Grill in Broad Ripple has reopened following a $1 million renovation that included a major expansion.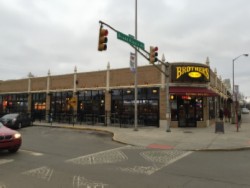 The bar at the northeast corner of Broad Ripple and Guilford avenues closed for about two weeks in January while workers knocked down the wall that separated Brothers from the space formerly occupied by the Bleecker Street night club.
Brothers Marc R. Fortney and Eric M. Fortney also own the building that houses their bar and the former Bleecker Street space. The two in 2013 were the target of a racial discrimination suit brought by Bleecker Street owner Anies Alfayyad that ultimately settled.
Once Bleecker Street closed the following year, the Fortneys began pondering an expansion.
"We had some interest in [the space]," Marc R. Fortney said. "But we decided to make the best use of it."
The previously 5,000-square-foot Brothers now totals 8,000 square feet and has much more seating available until 9 p.m. for families—a demographic Brothers hopes to target.
"That was our downfall—that people thought of us more as a bar than a restaurant," he said.
Brothers prides itself on its specialty cheese curds that are hand-battered with Leinenkugel beer in Ellsworth, Wisconsin, the self-proclaimed "Cheese Curd Capital of Wisconsin." The bar also hand cuts its own chicken and uses fresh meat for its burgers.
As part of the renovation, Brothers upgraded its entertainment with 53 new high-definition televisions. In addition, the bar features a new tap beer system, new furniture and woodwork.
The Fortneys founded Brothers in 1990 in Lacrosse, Wisconsin, and now have 19 locations, including Indiana outposts in Bloomington, Muncie, South Bend and West Lafayette. The Broad Ripple location opened in 2008.
The brothers hold a downtown Indianapolis liquor license and eventually want to open there, Fortney said.
• Also in Broad Ripple, Youmi Crepes and Bubble Tea has opened at 823 Broad Ripple Ave.  in the space formerly occupied by Original Gyros Joint.
Youmi features 50 different crepes and several varieties of tea.
Elsewhere:
• Dickey's Barbecue Pit opened Jan. 28 at 8624 Pendleton Pike in Lawrence, in space formerly occupied by Adriano's Pizzeria.
The Dallas-based barbecue joint has 530 locations in 43 states, including outposts in Avon and Plainfield.
 
Please enable JavaScript to view this content.