Scannell Properties has been selected to develop a mixed-use project in Brownsburg that officials hope will transform the nondescript downtown into a cluster of retail and residential activity.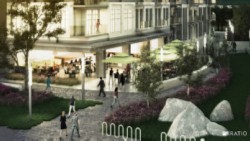 Plans for the five-story development call for 220 apartments, 15,000 square feet of retail and a 350-space parking garage to be built a few blocks north of downtown on five acres at the northeast quadrant of Green and Franklin streets.
IBJ reported in June that the land owner, Brownsburg resident Rick Bolt, had issued a request for proposals in hopes of developing the property.
Indianapolis-based Scannell declined to put a price tag on the project, which is still in the planning stages. But Brownsburg officials have estimated the project could cost $60 million.
The town has expanded its tax-increment financing district to include the area where the project would be built and might assist the project by either financing the cost of a parking garage or funding infrastructure improvements.
Scannell is partnering with CRG Residential LLC in Carmel and hopes to start construction in the summer, Scannell partner David Ravensberg said.
"It's the opportunity to create an urban core for an up-and-coming Hendricks County town," he said. "To be on the front end is an exciting opportunity."
Amy Burmeister of Colliers International's multi-family team led the RFP process. Who submitted proposals other than Scannell is unclear. Burmeister said she can't release that information until Scannell closes on the purchase of the land.
Ratio Architects is the architect on the project, which is not the only development that could be built in the area.
Across Green Street to the west, the town plans to construct a $25 million, 80,000-square-foot recreation center on the former St. Malachy Catholic Church and school property.
 
The town bought the land in 2012 and ultimately wants to tie the recreation center to a second mixed-use development, also on the west side of Green Street, connecting the two projects to the adjacent Arbuckle Park. No plans are set for the second mixed-use development.
Scannell, founded in 1990 by former Duke Realty executive Robert Scannell, is broadening its portfolio from industrial and office projects. Scannell hired Ravensberg in 2014 as director of its mixed-use platform.
The firm also is partnering with Loftus Robinson to build a $50 million mixed-use project adjacent to the Indianapolis Motor Speedway that would anchor the Speedway's revitalized Main Street.
 
Please enable JavaScript to view this content.