An Indianapolis company wants to build an $8 million multi-level self-storage facility on a vacant surface lot between Meridian and Pennsylvania streets on downtown's northern fringe.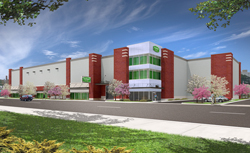 The 1.6-acre property at 1450 N. Pennsylvania St. last housed part of the Payton Wells Chevrolet dealership, which closed in early 2007. City filings show the site is owned by the estate of local businessman Bill Mays, who died in December 2014.
French Property Management LLC would purchase the property from the estate and is asking the city to rezone the land. It's also seeking approval from the Regional Center Hearing Examiner on the design of the building. The hearing examiner meets Feb. 25. A date has yet to be set on the rezoning.
At least one community group, King Park Development Corp., opposes the project.
"The proposed development will detract from the historical significance of the Old Northside neighborhood," the organization wrote in a letter to the city.
But French Property Management CEO Jim Adams views the storage facility as a necessity for a downtown that's experiencing a residential boom.
"We want to provide a product that is very under-served," he said. "There's a considerable number of people who are moving downtown."
The facility would feature 650 units ranging in size from 5-by-5-feet to 10-by-30-feet. The units would be accessed by an interior drive and a large elevator for transporting storage items to the second and third floors. The facility would be managed by Salt Lake City-based Extra Space Storage.
The units will not be visible from the outside, Adams said.
"This is our foray into more of an upscale, Class A-type facility," he said.
French Property Management's facilities are marketed under the Storage Depot name. The company, founded in 2004, operates five facilities in the Indianapolis area and has four others in various stages of construction, including one at 7420 N. Michigan Road.
The Pennsylvania Street site is contaminated and considered a brownfield, Adams said. The property's environmental challenges, combined with its mid-block location, do not make it conducive for residential or retail uses, he said.
 
Please enable JavaScript to view this content.