A prominent closing leads this edition of Property Lines:
• Barking Dog Cafe at 115 E. 49th St., known for its hand-cut BLTs and for giving canines a free plate of food, has closed following a lease disagreement.
Owners Jeff and Mary Beth Gahimer informed patrons of the closing on Tuesday, saying that landlords informed them in September that they would not be renewing their lease at the location near Pennsylvania Street in the Meridian-Kessler neighborhood.
The couple had operated the cafe for nearly nine years and thanked supporters who made their "dream come true."
But one of the landlords, Bryan Chandler, said they preferred the owners, who had operated on annual agreements, sign a long-term lease. When they balked, the landlords even agreed to allow the restaurant to operate month-to-month until the coming August, Chandler said.
"When I heard they were closing it was a complete shock to me," he said, "because we have put off 15 to 20 other opportunities. We did everything we could to work with them."
Downtown:
• Nada is set to open March 2 in ground-level Circle Centre mall space on West Maryland Street. The Cincinnati-based mod-Mex eatery is located to the east of Yard House and occupies 8,500 square feet.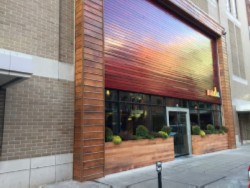 This is the third Nada for Cincinnati-based Boca Restaurant Group. Besides the Circle and Queen cities, the other is in Columbus, Ohio.
Nada's specialty dishes include its tacos al pastor and its macaroni and cheese.
Boca President David Falk said visitors to the restaurant will be "blown away" by the decor.
"I feel extremely confident saying that this is the most exciting design that I've seen in downtown Indy," he said.
The space seats 200. The average price for dishes is $16 for lunch and $25 for dinner.
• Broken Beaker, after a false start, is set to open Feb. 25 at 643 Massachusetts Ave., north of Ralston's Draft House. The 3,400-square-foot distillery had planned to open in mid-January but was held up by delays in permitting and construction.
In the Glendale area:
• The Meijer store under construction at the southwest corner of 56th Street and Keystone Avenue should open in June, according to a company spokeswoman.
In Noblesville:
• Noodles & Company opened an outpost Feb. 22 in Noblesville at 17015 Mercantile Blvd. on State Road 37.
The 2,900 square-foot Noblesville space seats 76 and is open from 11 a.m. to 9 p.m. Sunday through Wednesday and 11 a.m. to 10 p.m. Thursday through Saturday.
The Broomfield, Colorado-based chain has 480 locations across the country, including 12 in the Indianapolis area.
• Evereve, a casual contemporary women's clothing boutique, is set to open March 9 at 13971 Town Center Blvd. in Hamilton Town Center.
Formerly known as Hot Mama, Evereve operates 60 stores in 21 states, including one each at The Fashion Mall and Clay Terrace.
 
Please enable JavaScript to view this content.