The downtown Noble Roman's restaurant on West Market Street near the Indiana Statehouse has closed.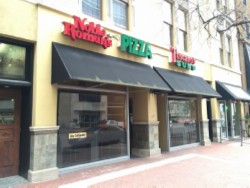 "After being here on Market Street more years than we can remember, our last lease extension is expiring and we are no longer able to serve you from this location," reads a sign on the door from the Indianapolis-based pizza franchisor.
Noble Roman's Inc. CEO Scott Mobley told IBJ via email that the company could have extended its lease but declined the option due to changing downtown pedestrian traffic patterns.
"With the lease expiring, we felt this was an opportune time to refresh the look and update the equipment after we search out a more suitable and up-to-date location," he said.
Steve Delaney, a retail broker at CBRE Sitehawk, said Noble Roman's strategy to move to a busier part of downtown seems to make sense.
"Going a little farther south into the Wholesale District closer to [Circle Centre] mall might increase traffic, especially nights and weekends," he said.
Further dissuading Noble Roman's from recommitting to the space could be the impending arrival of Giordano's to the Illinois Building, about a block to the east. The Chicago-based competitor is slated to open its second location in Indianapolis this summer. Its first, at the Rivers Edge shopping center, began serving its signature deep-dish pizza in January 2015.
Meanwhile, the Noble Roman's location on West Market was one of the chain's few traditional sit-down restaurants left in Indianapolis. Others are at 7044 Emblem Drive near Southport Road and Emerson Avenue on the south side and 7201 W. 10th St. on the west side.
The company, founded in Bloomington in 1972, once had a total of more than 75 stand-alone pizzerias. It lately has been trying to grow via other avenues: franchising stand-alone take-and-bake pizza stores and by selling freshly made take-and-bake pizzas in grocery stores nationwide.   
Shares of Noble Roman's were trading at 85 cents each on Tuesday morning.
Please enable JavaScript to view this content.