The next two months should be big for the arts-focused Big Car Collaborative.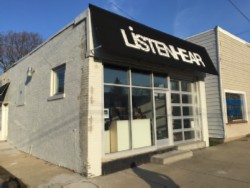 Founded in Fountain Square in 2004 and once headquartered by Lafayette Square Mall, the group has established a new home base in the south-side Garfield Park neighborhood.
That's where Big Car on March 31 is set to open Listen Hear at 2620 Shelby St. (see first photo) and the nearby Tube Factory art space on May 6 at 1125 Cruft St.
Listen Hear is housed in a former appliance repair shop on the Shelby Street corridor and will focus on "sound art." Plans include low-powered radio station WQRT-99.1 FM, a performance space, a small-sound art museum and an artist-curated record store in partnership with Luna Music.
The venue also will have a beer and wine permit to allow Big Car to serve alcohol during events.
Big Car plans to open the Tube Factory in the same building where the arts group is based at 1125 Cruft St. (see second photo), less than a block away from Listen Hear.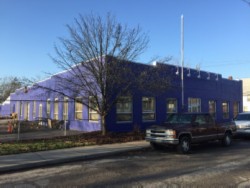 The 12,000-square-foot building was built in 1908 and was most recently owned by Tube Processing Corp., hence the name. It will include exhibition spaces, workshops and meeting space.
The Tube Factory will open with the exhibit "The People's 500" to help highlight the 100th running of the Indianapolis 500.
California-based artist Jesse Sugarmann chose 100 Indianapolis residents to drive two laps around the track in a pace car—the equivalent of a single running of the Indianapolis 500.
Sugarmann and his crew photographed and interviewed each of the drivers and compiled the material for the exhibition.
Big Car purchased the Listen Hear and Tube Processing buildings and hopes to improve the neighborhood even further by refurbishing, along with Riley Area Development Corp., up to nine vacant homes to give artists affordable housing options. Many are on Cruft Street surrounding the Tube Factory and Big Car's headquarters.
"It's a huge problem when you have so many abandoned houses on such a short street," said Jim Walker, executive director of Big Car.
The total cost, including the Listen Hear and Tube Factory projects, is estimated at $1.5 million. To help fund renovations, Big Car received a community development block grant from the city totaling $466,000 and has raised $500,000. That includes a $250,000 donation from the Allen Whitehill Clowes Charitable Foundation Inc., $150,000 from the Efroymson Family Fund and $50,000 from Lilly Endowment Inc. Big Car is still raising funds for the remainder of the costs.
 
Please enable JavaScript to view this content.