Massachusetts Avenue has been good to the Cincinnati-based Thunderdome Restaurant Group. But it's about to get better.
The group opened hip Mexican restaurant Bakersfield in March 2013 in the former Bazbeaux pizza space and followed up in December with The Eagle in the former Front Page Sports Bar & Grill building.
Now it's set to expand Bakersfield's seating by more than 25 percent by taking 850 square feet from neighbor Stout's Shoes at 318 Massachusetts Avenue.
The family-owned shoe store, which has operated in the building since 1886, had planned to cut its ground-floor space by about 80 percent and nearly had an agreement signed last year with The Eagle before it opted for The Front Page space.
Besides Bakersfield and The Eagle, known for its Southern comfort-food-style menu, Thunderdome partners Joe Lanni and his brother, John, along with Alex Blust, operate Kreuger's Tavern in the Queen City.
Blust, who is listed on a construction permit, couldn't be reached for comment.
Stout Shoe's President Brad Stout said the additional Bakersfield seating should be ready in about six weeks and that it was replacing "Surplus storage space" in the shoe store. Stout already is a landlord to Bakersfield and Full Circle Hair Salon.
Elsewhere: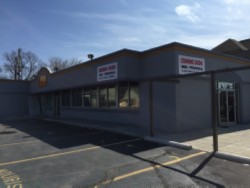 • Mr. Tequila Cantina & Grill is replacing the short-lived Nourish Innovative Local Cuisine & Cocktails at 931 S. East St. in Fletcher Place. Nourish opened in May but closed after just three months.  
• McAlister's Deli is set to open March 21 in Plainfield, at 1410 E. Main St. (U.S. 40). The Alpharetta, Georgia chain has 13 locations in the Indianapolis area, including one in Brownsburg at 211 W. Northfield Drive, which opened last year.
All McAlister's locations in Indiana are owned by Franklin, Tennessee-based franchisee Southern Rock Restaurants, which in December purchased the delis from McIndy Ventures LLC.
• Indoor cycling studio CycleBar is set to open its second location in the Indianapolis area on March 28 at 6010 W. 86th St. in the Traders Point shopping center. The first opened in November at 12697 N. Pennsylvania St. near the corner of Carmel Drive.
• Also, a Tuesday Morning store is "coming soon" to 86th Street and Township Line Road, a few doors west of the Kroger supermarket in the Willow Lake East shopping center.
The Dallas-based upscale discount retailer operates five stores in the Indianapolis area and more than 800 nationally.
 
Please enable JavaScript to view this content.