Milhaus Development's downtown Circa apartment project has received a shout-out from the Urban Land Institute for its bicycle-friendly features.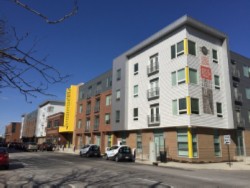 The Washington, D.C.-based ULI's new publication, "Active Transportation and Real Estate: The Next Frontier," identified 10 real estate developments across the country that cater to bicyclists.
Circa opened in August 2014 at 617 N. College Ave. (see image above), adjacent to the Cultural Trail. It includes 265 units renting for between $950 and $2,500 per month.
The report says that, by supporting bike infrastructure, real estate developers can play a significant role in creating healthier, more sustainable communities.
At Circa, ULI lauds Milhaus for including bicycle storage space on the ground floor of each building; a bike-sharing service allowing residents and visitors to check out bikes, helmets and locks; a bike workroom; and a bike-washing station.
ULI also recognized projects in Albuquerque, New Mexico; Atlanta; Bethesda, Maryland; Des Moines, Iowa; Minneapolis; New York City; Portland, Oregon; and also in London and Singapore.
 
Please enable JavaScript to view this content.