Activity at the north-side Clearwater Crossing shopping center kicks off the latest edition of Property Lines:
• BD's Mongolian Barbeque at 3838 E. 82nd St. in Clearwater Crossing has closed.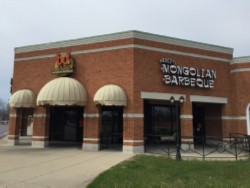 A sign on the door from landlord The Broadbent Co. says it has taken possession of the space and changed the locks, warning that "trespassers will be prosecuted to the fullest extent of the law!"
Founded in 1992 in Royal Oak, Michigan, the stir-fry chain that lets patrons choose all of the ingredients of their meals has more than 25 locations in 11 states, mostly concentrated in the Midwest. The outpost at Clearwater Crossing was the sole Indiana BD's.
Staying at Clearwater Crossing:
• Morty's Comedy Joint is taking the outlot building formerly occupied by Don Pablo's at 3824 E.82nd St.
The Morty's club at 3625 E. 96th St. hosted its last show March 26 and plans to open at its new location by early April.
Morty's had been on 96th Street for six years and says it's moving to "an even better building at an even better location with even better parking." It will offer Mexican cuisine, and will be known as Morty's Comedy Joint & Mexican Grill.
Downtown:
• Wild Eggs is set to open its second Indianapolis-area location May 2, at 314 N. Delaware St. in TWG Development's Pulliam Square building, where it will join The Tap.
The Louisville-based eatery serves breakfast, brunch and lunch, and has an existing restaurant at 1438 W. Main St. in Carmel. Wild Eggs also plans to open this summer in Fishers.
For IBJ's March 12 feature on the local breakfast craze, click here.
• Metazoa Brewing Co. is set to open April 1 at 140 S. College Ave. about a block north of the Milano Inn. Live music, food trucks and games will kick off the festivities at 6 p.m.
The microbrewery plans to donate a portion of its profits to animal and wildlife organizations.
In Carmel:
• Crust Pizzeria Napolitana has agreed to take 3,400 square feet at 840 W. Main St., and should be open by May.
The pizzeria had been located at 12505 Old Meridian St., where Kosene & Kosene now plans to open a second Mimi Blue Meatballs. Kosene in 2014 opened Mimi Blue at 874 Massachusetts Ave.  
Elsewhere:
• AMC Theatres has filed plans to renovate its 45,100-square-foot AMC Washington Square 12 cineplex near Washington Square Mall on the east side.
Plans include recliner seating and upgrades to its concessions and public area.
 
Please enable JavaScript to view this content.