It appears a controversial billboard in the Geist area will be coming down.
A city zoning board voted 4-0 Thursday to revoke the sign permit issued by the Metropolitan Development Commission late last year.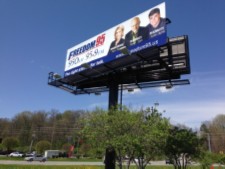 A staff member for the Department of Metropolitan Development maintained that the sign conformed to zoning guidelines for the property.
But dozens of Geist residents who attended the meeting, and erupted loudly after the votes were cast, convinced the board otherwise.
They were represented by attorney Mary Solada of Bingham Greenebaum Doll LLP.
"We beg you to apply what we think are the two basis to overturn this permit," she told the board before the vote. "Let the chips fall where they may when you do that."
The residents mainly argued that the billboard, at the intersection of 79th Street and Fall Creek Road, was erected too close to a stoplight and distracts drivers approaching the intersection.    
Jeff Lee, a Fishers resident who operates Geft Outdoor LLC, owns the billboard. He was unable to attend the meeting.
Attorney Mike Quinn spoke on his behalf. But Quinn said he was told the issue would be continued and was ill-prepared to defend his client.
"That said, knowing full well how the [DMD] works and the Department of Code Enforcement works, they were very careful about granting a permit for this sign at this location," he told the board.
The 40-foot-tall sign went up in January and has space for three rotating messages that face 79th Street and Fall Creek Road and one message that faces westbound 79th Street.
The residents filed their appeal in February.
 
Please enable JavaScript to view this content.