Broad Ripple, traditionally known for its active nightlife, suddenly is becoming a hotspot for apartment development.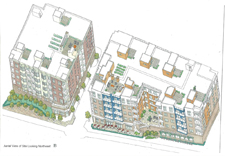 Two projects are in various stages of construction with two more in the works—both on Westfield Boulevard near the White River and within a few blocks from one another.
IBJ reported April 25 Todd Morris' plans for a six-story building with 105 apartments and 5,000 square feet of street-level retail at 6311 Westfield Blvd., where a three-story office building stands.
Now Carmel-based J.C. Hart Co. Inc. wants to build a $16.3 million project with 136 units split between two buildings on the Rogers Pools' property to the north, at 6364 Westfield Blvd.
Plans call for the demolition of three buildings, two on the south side of 64th Street and one on the north side. Construction wouldn't start until early 2017, after Rogers' lease expires. The company likely will relocate. The property is owned by the Blickman family, which is partnering with Hart on the project, company president John Hart said.
"It's really going to be a cool project, because it fronts the Monon Trail on one side," Hart said. "The buildings sit up high enough so many units will have views of the river as well."
The building on the south end will feature 84 units and the one to the north 52. Also, 1,730 square feet of retail space will be available along the Monon, in addition to 1,240 square feet of office space. Two levels of parking in each building will provide 163 spaces.
Most of the apartments will be efficiencies and one-bedroom units, ranging between 700 and 750 square feet, and some two-bedrooms as large as 1,000 square feet. Monthly rents will range from about $1,100 to $1,600.
"That's a little more than suburban rents but not as high as downtown," Hart said.
The property needs rezoned and could be considered by the city as early as June 9. The architect is Weaver Sherman Design in Broad Ripple.
The project would be J.C. Hart's second in Broad Ripple. Hart has begun moving utilities and should start construction in the next two months on the $17 million Park 66.
It will include 108 units and is located at the northwest corner of East 66th and Ferguson streets, just south of the Indianapolis Art Center.
And Browning Investments is constructing its $37 million, 150-unit Coil project along the Central Canal on College Avenue.
 
Please enable JavaScript to view this content.