A bar and restaurant chain with an existing Broad Ripple presence is poised to take over the former Roberts Camera building on South Meridian Street.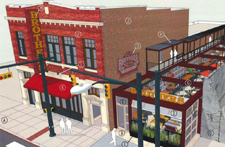 Forney Cos., the Lacrosse, Wisconsin-based owner of Brothers Bar & Grill, has agreed to buy the two-story building at 255 S. Meridian St. and is seeking Indianapolis Historic Preservation Commission approval to make changes to the property, according to a city filing.
Among them is a request to build an outdoor patio on the vacant lot directly south of the building. (See image above and click for larger view.)
IHPC staff supports the request. Commission members are set to consider the request May 4.
"Staff finds this to be a creative way to use a left-over space that otherwise has limited value," IHPC staff wrote in the filing.
The building has been vacant since Roberts Camera left in September 2014 for a larger, 35,000-square-foot facility at 220 E. St. Clair St. between North Delaware Street and Fort Wayne Avenue.
Roberts had been at the South Meridian Street location since 1970. But the building is much older. It was constructed in 1907 and originally housed the American Railway Express Co. The Adams Express Co. building, which sat on the parking lot where the Brothers patio would be located, was built in 1887 and was demolished in 1971, according to the city filing.
Brothers Marc R. Fortney and Eric M. Fortney founded Brothers in 1990 in Lacrosse. The Midwestern chain has 19 locations, including Indiana outposts in Bloomington, Muncie, South Bend and West Lafayette. The Broad Ripple location opened in 2008.
It underwent a $1 million renovation in late January that included a major expansion.
Brothers officials were not immediately available for comment Thursday morning.
Please enable JavaScript to view this content.