Kicking off the month of May, a new restaurant in Speedway and the latest hotel to open downtown:
• Big Woods is set to open May 9 in Speedway—in time to participate in the festivities surrounding the 100th running of the Indianapolis 500. Based in Nashville, Indiana, Big Woods constructed a 7,500-square-foot restaurant at 10th and Main streets, joining a growing list of arrivals to the town's rejuvenated thoroughfare near the track.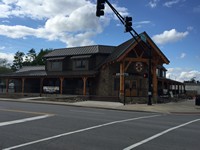 Big Woods offers a full menu, including artisanal pizza and smoked pork chop nachos. It also offers a large craft-beer selection, including brews from the company's Quaff On! Brewing Co. in Bloomington.
• Metro Diner is opening eateries at 3954 E. 82nd St. in Clearwater Crossing and 7225 U.S. 31 on the south side and will join a growing metro breakfast market.
The locations are the first outside the Jacksonville, Florida-based chain's home state and will be operated by a group led by Sam Tancredi, who helped bring Outback Steakhouse and Bonefish Grill to the city.
Metro Diner is taking 3,200 square feet at Clearwater Crossing, next to Wild Birds Unlimited, and is slated to open May 16. The south-side location at Southport Shops should follow in mid-August, with possibly even a third outpost at a later date. Tancredi said Metro Diner is in discussions to occupy space in the new Butler University parking garage.
The average check amount is roughly $12 for a meal at breakfast, lunch or dinner. Chicken and waffles and French toast are among the favorites.
Metro Diner was featured in 2011 on an episode of the Food Network's Diners, Drive-Ins and Dives.
• Big Car Collaborative is set to launch its Tube Factory art space May 6 as part of a $2 million investment in the building at 1125 Cruft St. in the Garfield Park neighborhood.
The 12,000-square-foot building was built in 1908 and was most recently owned by Tube Processing Corp., hence the name. It will include exhibition spaces, workshops and meeting space.
• Home 2 Suites by Hilton opened downtown April 28 in part of the Penn Street Tower apartment project at 115 N. Pennsylvania St. The 108-room, extended-stay hotel is a joint venture between East Lansing, Michigan-based HRC Hotels LLC and Valparaiso-based Good Hospitality Services LLC.
Room rates average $119 per night. A positive sign for the local hospitality market: Hilton officials say the new hotel is sold out for the race.
Home2 Suites will host a grand opening May 12.
• Meijer is set June 7 to open its supercenter at 56th Street and Keystone Avenue in the Glendale area. The Grand Rapids, Michigan retailer has 12 stores in the Indianapolis area.
• In case you missed it, Brothers Bar & Grill plans to take the former Roberts Camera building downtown.
New arrivals coming to the Lafayette Square area:
• Kaura International Food Market at 4271 Lafayette Road and La Michoacana Ice Cream at 3700 Lafayette Road.
A couple of closings to report, in the Keystone at the Crossing area:
• Women's clothing store Bebe closed its lone Indianapolis outpost at the Fashion Mall. The Brisbane, California-based chain has 149 stores in the United States, Canada and Puerto Rico.
• Amazing Joe's Steak House at 3716 E. 82nd St., in the building formerly occupied by Oobatz! and Uno Pizzeria, has stopped serving after a short, four-month run.
 
Please enable JavaScript to view this content.