Plans to redevelop the former Coca-Cola bottling plant at the northeast end of downtown's Mass Ave district have many hoping that the massive project eventually could spark more commercial activity in the neighborhoods to the east.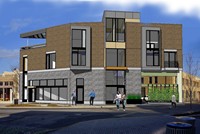 A much smaller, $1 million development adjacent to the site already is in the works and would fill an empty sliver of land at the northeast terminus of Mass Ave, sandwiched between part of the plant and the former R Bistro restaurant.
Bluebeard restaurant owner Edward Battista is behind the three-story project with 1,400 square feet of street-level retail space and two split-level apartments on the upper floors totaling 2,500 square feet. (Click accompanying image for larger view.)
Battista and his father, Tom, who own the neighboring retail building where R Bistro formerly occupied space, presented their plans to the Indianapolis Historic Preservation Commission on May 4. They hope to receive final approval next month to start building and then finish early next year.
"We've always believed in the east end of Massachusetts Avenue," the younger Battista told Property Lines. "We've had a vested interest in the neighborhood and have nurtured a lot of small businesses."
The Battistas also own the building across the street at 922 Massachusetts Ave., where Black Market operates. Edward Battista lives above the gastropub.
They've owned the land where they want to construct the three-story building since 1999 and had planned to develop it in 2006, but the downturn in the real estate market prevented it.
The two apartments already are pre-leased, Edward Battista said.
Plans for the retail piece call for incorporating it into the R Bistro space to increase seating and attract a larger restaurant. A tenant has not been signed yet.
The newly constructed building will be a first for the Battistas, whose real estate projects are all rehabs.
"We want something we can be proud of," Edward Battista said.
The architect is J.W. McQuiston Architecture + Interior Design.
 
 
Please enable JavaScript to view this content.