The historic building that houses St. Elmo Steak House is preparing to undergo cosmetic surgery.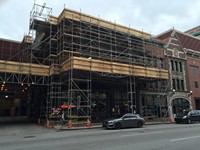 Scaffolding surrounds the landmark at 127 S. Illinois St., as father-son owners Steve Huse and Craig Huse await approval from the Indianapolis Historical Preservation Commission on how to proceed with exterior repairs.
The ornamental terra cotta that adorns the building's roofline is beginning to crumble, prompting the procedure that could take up to six months. In all, 71 pieces need to be repaired or replaced.
"My father Steve Huse and I are more stewards of St. Elmo Steak House than we are owners," Craig Huse said in an e-mail.
The restaurant has operated at the location since 1902 and actually occupies three separate buildings. The northernmost structure, known as the Braden Building, was constructed in 1892 and requires the maintenance.
While the storefronts of the three buildings—the oldest constructed in 1874—have changed, the rich architectural details of the upper levels have remained virtually intact. In the early part of the 20th century, glazed terra cotta—a clay-type material—was the architectural industry's go-to material.
Today, replacement terra cotta (the most expensive option) or substitute materials are typically used to duplicate original architecture of that era.
The repairs at St. Elmo are expected to last six months, Huse said, because molds need to be created from existing pieces. He estimated the cost of the project at less than $1 million.
IHPC is set to consider options June 1. The scaffolding has been erected for safety reasons and in preparation of the approval, said David Baker, IHPC's administrator.
"We've approved some of the work," he said, "but they're exploring the extent of the issue and the alternatives before we approve what that will be."
Steve Huse bought St. Elmo in 1986 and brought aboard Craig, who operates the restaurant, as a partner in 1997.
 
Please enable JavaScript to view this content.