Developers of the Block 20 mixed-use project to be built adjacent to the historic Athenaeum building are slated to present plans to the city early next month.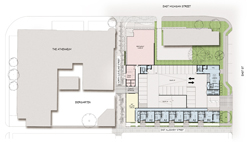 The Athenaeum Foundation, the not-for-profit that owns the building at the six-spoke intersection of Massachusetts Avenue and New Jersey and Michigan streets, is partnering with Indianapolis-based Chase Development Inc. on the $15 million development.
It would include as many as 70 apartments, roughly 10,000 square feet of retail space, and a 229-space parking garage. (To see a larger version of the site plan, click on image above.)
The Indianapolis Historic Preservation Commission is expected to get its first look at the design June 1. If IHPC approves the plans at its following meeting on July 6, construction could begin in the fall, Chase President Daniel Jacobs said.
Chase and the foundation also are seeking to vacate Cleveland Street, which runs north-south between the Athenaeum building and the parking lot on which the project would be built.
The foundation on April 29 announced the project, which would be built on the surface lot fronting Michigan Street east of the Athenaeum. The foundation bought the lot in 2001 and, because it's a not-for-profit, does not pay property taxes on it.
That will change with the construction of Block 20, Jacobs said. In addition, the foundation will receive income from parking garage revenue.
The name of the project is derived from the block's position on the original plat of Indianapolis at the southeast corner of New Jersey and Michigan streets.
Jacobs said he became interested in developing the site after the foundation sought proposals in 2013. It received three but eventually decided to shelve them after being unable to resolve financial details.
Chase Development has produced several residential projects in the northeast quadrant of downtown near the Athenaeum site, including the 500 Park Residences on the northwest corner of East Michigan Street and Park Avenue.
A second phase to 500 Park calls for 40 to 50 condominiums to be built on an empty lot to the north. Jacobs hopes to announce plans for that project late next month.
 
 
Please enable JavaScript to view this content.