The 500 Festival building on downtown's Virginia Avenue is sporting some new artwork.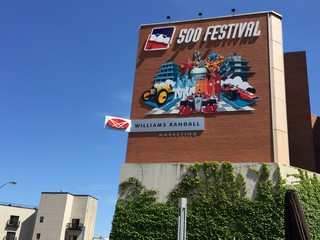 A 24-foot-wide by 12-foot-tall mural went up on the north side of the building on Thursday to commemorate the 100th running of the Indianapolis 500.
It also pays homage to two other anniversaries being celebrated this month: the 40th Mini-Marathon and the 60th 500 Festival Parade.
The mural, however, will remain long after this month's events conclude, 500 Festival spokeswoman Sabrina List said.
"We wanted something big to remind people of the grandness of [the month of May]," she said. "It's meant to be permanent."
The piece is from local artist Carl Leck, who beat out about a dozen others seeking the honor. The 500 Festival's 100th Running Host Committee commissioned the art.
Leck's mural depicts the Borg-Warner Trophy that's presented annually to the 500 winner, the original and current track pagodas, and three race cars—one of which is the inaugural 1911 winner—in addition to parade and Mini-Marathon depictions.
The artwork, done by Leck in pieces, was constructed using 4-foot by 8-foot aluminum-type panels.
Lists said she didn't immediately know the cost of the project but donors contributed much of the funding.
 
Please enable JavaScript to view this content.