The north side next summer should have another hotel in its hospitality inventory for the Keystone at the Crossing area.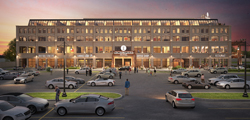 Hendricks Commercial Properties broke ground Wednesday on its $20.1 million, 120-room Ironworks Hotel Indianapolis adjacent to its five-story, 120-unit mixed-use development that also bears the Ironworks name.
The hotel will be built on 5.3 acres where the former La-Z Boy building sat, directly west of the Ironworks apartment building along the south side of East 86th Street near Keystone Avenue.
The 100,000-square-foot hotel, set to open next summer, also will feature 15,000 square feet of street-level retail space and an upscale restaurant on the second floor. (Click on images to see expanded views of the renderings.)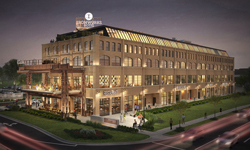 A rooftop sign visible in the exterior renderings remains part of the design, after the Metropolitan Development Commission's hearing examiner initially rejected it.
The Driftwood Hills Neighborhood Association, which represents the residential area north of East 86th Street, argued against the roof sign, saying it would be a "big intrusion" on the neighborhood.
But Hendricks appealed the hearing examiner's decision to MDC, which approved the sign.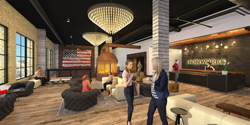 Ratio Architects is the architect on the project.
Hendricks' only other Ironworks hotel is located in its hometown of Beloit, Wisconsin.
The developer entered the Indianapolis market in 2012 with the Ironworks apartment project. It since has bought the Century building downtown on South Pennsylvania Street and in late May was selected by the Indianapolis Public Schools board to redevelop the former Coca-Cola bottling plant site along Massachusetts and College avenues.
The $260 million project calls for 337 apartments, 339,400 square feet of office space and 67,225 square feet of retail space. In addition, Hendricks plans to build a 132-room hotel, 68,500-square feet of creative space including a daycare, and a 41,000-square-foot cinema.
 
Please enable JavaScript to view this content.