A new bar and restaurant is taking the space occupied for years by Paddy's Legal Beagle—a longtime favorite of City-County Building workers across Delaware Street.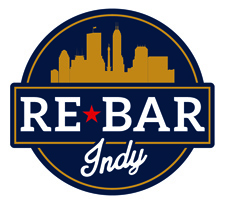 Rebar Indy is expected to begin serving customers with a soft opening Aug. 1 before ramping up to full operations Aug. 8.
Jason Waters, an orthopedic surgeon for IU Health, and three partners are leasing the building at 20 N. Delaware St. with an option to buy. They are making a "significant investment" in the building by "cleaning house," Waters said, to give the space a neo-industrial look.
"We knew right away we wanted to change the concept," he said. "We wanted to do something fresh."
Rebar Indy will feature a scratch kitchen—a burger blended from three different meats is among the menu items—and a self-serve beer wall with 20 taps. The beer wall lets patrons sample beers (up to 32 ounces) by making selections from a computer screen and using a pre-loaded card.
Jason Tipton, a partner in the now-closed Ripple Inn, will lead restaurant operations. The third partner is Alex Shortle, and the fourth is silent. The chef is an instructor at The Chef's Academy.  
All of the furniture is handmade from reclaimed materials to complement the industrial look.
The Legal Beagle closed in late March after a string of ownership changes in recent years. The last operator, Joe Chamberlain, died in 2014.
The three-story Italianate-style building is one of the oldest commercial structures in Indianapolis, constructed in 1866 by brothers John and Adam Hereth to house their saddle-and-harness shop, according to HistoricIndianapolis.com. Law offices mostly occupied the upper floors of the building, which was named the Hereth Block.
In other retail and restaurant news:
• Twisted Sisters is moving to space in Clearwater Shoppes at 3937 East 82nd St. and hopes to be open at the new location in mid-August. The present location at 7002 Lake Plaza Drive near 71st Street and Binford Boulevard will remain open until the end of the year.
Twisted Sisters is an 8-year-old retail shop operated by sisters Teresa Fahrbach, Linda Morgan and Judy Vanscoy that has featured numerous Indiana artists throughout its existence.
• Menards opened a new home-improvement store June 28 at 7701 E. 42nd St. near Interstate 465 on the east side. Hours are 6:30 a.m. to 10 p.m. Monday through Saturday and 8 a.m. to 8 p.m. on Sunday.
The 175,000-square-foot retail center replaced the smaller and older Menards at 6800 Pendleton Pike near Shadeland Avenue about one mile west.
Menards, a Wisconsin-based family-owned company, was founded in 1958 and operates 36 stores in Indiana and roughly 300 throughout the Midwest.
And now for closings:
• Sigman's Gallery at 930 Broad Ripple Ave., at the northwest corner of the avenue's intersection with Westfield Boulevard, is no longer open. The art gallery and custom frame shop had operated since 1987, according to Sigman's website.
• Gaslight Inn at 2280 S. Meridian St. is no longer open. Owner Joe DeMore announced the closing in a July 5 Facebook posting, in which he attributed the decision to "family and health issues." Gaslight Inn still can be rented out on Saturdays for events, he said.    
• Paradise Bakery & Cafe at 8540 Castleton Corner Drive near 86th Street and Allisonville Road shut its doors late last month. The closing coincided with the shutting of Paradise's downtown location on the first floor of Chase Tower.
• M.G. Tates gift shop in the Fashion Mall is closed.
 
Please enable JavaScript to view this content.