The Koelschip, an Indianapolis watering hole for beer, wine and coffee, has been named one of the top 100 beer bars in the United States by the bi-monthly Draft magazine.
The Fall Creek neighborhood bar is one of two homegrown establishments in Indiana to make the list, announced on July 6. The other is Heorot in Muncie.
Since opening in late January, The Koelschip at 2505 N. Delaware St. has built a following based on its mix of beers from around the world served alongside The Koelschip's own beer from Central State Brewing.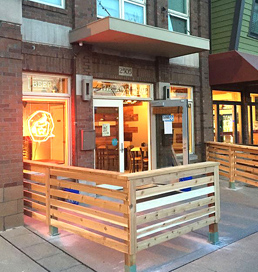 The Koelschip was praised for its minimalist vibe and surprising selection. (Image courtesy The Koelschip)
The Koelschip is owned by Jake Koeneman, Josh Hambright and Chris Bly. The Koelschip's long bar, lack of televisions and distinct décor encourages conversation, Koeneman said in a press release.
"We are proud to be a part of the list alongside many of the bars we've looked to for inspiration while building The Koelschip," Koeneman said. "In just five months, we have been able to showcase the best beers we can access, making us a must visit for beer lovers and a great neighborhood gathering spot."
Here's what DRAFT magazine had to say about The Koelschip:
"The team behind Indy's Central State Brewing noticed a lot of great bars in town serving standard beer styles, but felt the city lacked a bar dedicated to interesting imports and 'weirder' domestic beers. So this winter they opened Koelschip, a 12-tap, minimalist bar with permanent handles for four Central State beers and Ritterguts gose, plus seven rotating options that span hoppy, malty, dark and funky brews from the likes of Jolly Pumpkin and 18th Street. Pint glasses are only for water; all other beers are served in 16-, 12- or 10-ounce tulips."
The Koelschip is open Monday through Saturday from noon to 9 p.m. and Sundays noon to 8 p.m.
 
Please enable JavaScript to view this content.