The design of a $22 million Cambria Hotel & Suites to be constructed on a vacant lot on South Meridian Street has changed dramatically since the project was introduced in October.
Local hotel developer Sun Development & Management Corp. will be developing the 11-story Cambria four blocks south of Monument Circle for Rockville, Maryland-based Choice Hotels International.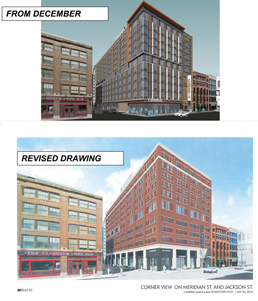 Choice presented a contemporary design in December, which the Indianapolis Historic Preservation Commission approved. But after Sun Development CEO Bharat Patel agreed to develop the hotel for Choice and become a Cambria franchisee, he favored a more traditional look.
The latest design, which IHPC approved on July 6, features a red-brick façade to better reflect the history of the surrounding Wholesale District. The previous design for the east façade facing South Meridian Street primarily was glass with an aluminum frame and terra cotta grilles. (Click on accompanying image for bigger view.)
The hotel will be built at the northwest corner of South Meridian Street and Jackson Place, on the surface lot just south of Station Place and its first-floor tenant, The Old Spaghetti Factory.
Mary Solada, the locally based attorney for Sun Development, told commission members that Patel convinced Choice executives to back the new design that strays from Cambria's typical, contemporary style.
"Essentially, they caved," she said.
Commissioners unanimously agreed that the new design is a big improvement from the original.
The architect on the project is Indianapolis-based Ratio Architects Inc. IHPC President Bill Browne, a Ratio managing partner, recused himself from the vote.
With the new design also come a few structural changes from the first iteration. The number of rooms has been reduced from 180 to 150, and the lobby has been moved from the first floor to the sixth to allow for more retail space on the ground level. Parking will be on levels two through five.
Sun's portfolio includes 28 hotels with six more in development. The company also plans to build two hotels on the site of Bethel African Methodist Episcopal Church at 414 W. Vermont St.
 
Please enable JavaScript to view this content.