The revitalization effort occurring along a portion of East 16th Street is about to get even more active, with two residential projects, a restaurant and a distillery in the beginning stages of development.
Familiar faces by now to the corridor's culinary scene, Peter George and Thomas Main, owners of Tinker Street, have switched gears and are shelving their plans to open an Italian restaurant and instead are focusing on a Mexican eatery.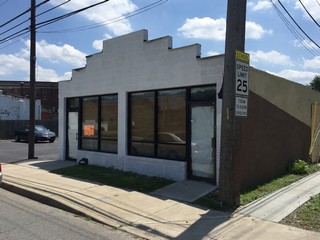 They're leasing the 1,100-square-foot building (pictured right) at 1217 E. 16th St.—about a block east from TWG  Development LLC's  conversion of the former Gleaner's Food Bank site into 145 apartments and King Park Development Corp.'s redevelopment of the old Tinker Flats building. At Tinker Flats, Hotel Tango Whiskey, which operates at 702 Virginia Ave., has signed a lease for a second location and could be operating by the end of the year, said Steven Meyer, King Park's executive director.
The Mexican restaurant, slated to open in the fall, was to be called Comida. But it's nameless as of now, after George and Main ran into copyright issues.
At any rate, the two are optimistic their new venture will be as successful as Tinker Street, which opened to the west in January 2015 at 402 E. 16th St.
"We have a ton of belief in 16th Street," Main said. "The neighborhoods are super strong. They've shown tremendous confidence in Tinker Street."
The Mexican restaurant will feature dishes ranging from tacos to whole fish, and a seasonal selection of margaritas.
"It's not going to be your typical burrito, refried beans and cayenne rice place," George said.
Meanwhile, George and Main own the vacant and dilapidated building at 407 E. 16th St., across from Tinker Street, where they had planned to open their Italian restaurant. They even progressed as far as receiving design approval from the Indianapolis Historic Preservation Commission.
But the project proved more daunting than envisioned. A confluence of events led them to the Mexican eatery plans: the building and a "reasonably priced" three-way liquor license both became available. Also, Tinker Street chef Rachel Hoover and her husband have dreamed of operating a Mexican restaurant and will lead the effort, George said.
On the residential front, an affiliate of Bloomington-based Rubicon Construction LLC plans to build a 26-unit apartment project at the southwest corner of East 16th and New Jersey streets. A block to the east, Milhaus Development LLC plans to build seven townhomes at the southwest corner of East 16th and Central Avenue.
Both firms received design approval earlier this month from the Indianapolis Historic Preservation Commission.
Also, Cannon Ball Brewing Co. at 1702 Bellefontaine St., about a block north of East 16th St., is nearing an opening. A July 23 Facebook post says the microbrewery is "about ready."
 
Please enable JavaScript to view this content.