The large Victorian house on East 10th Street that last housed the Jordan Gray Funeral Home has a new owner, who plans to convert the residence into an event center and small business incubator.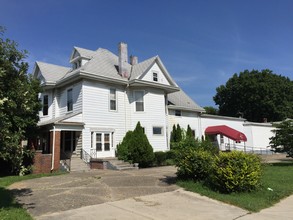 Shawn Miller, a small downtown real estate developer who restores Victorian buildings, bought the former funeral home at 2428 E. 10th St. in the Springdale neighborhood in June from Indiana Memorial Group LLC.
He declined to divulge what he paid for the 7,200-square-foot property with a small cottage connected at the rear. It was originally listed for $363,100 before being reduced.
Miller has redubbed the property The Alford House in honor of its original owner, Fremont Alford, a prominent Marion County judge who built the home in 1898.
"It's probably the most important house on 10th Street; It's a really, really big house," Miller said. "As a funeral home, it was never allowed to decline. It has amazing woodwork, stained glass and multiple fireplaces."
Still, the heating and cooling system needs to be replaced, after vandals stole the copper wiring, he said. And the white, vinyl siding diminishes the historic look, but Miller said he'll tackle that later.
Miller is concentrating on getting the event center operating first and hopes to have it open in the fall. The home could double as the business incubator during the day. A surface lot across the street, on North Tacoma Avenue, provides parking.
"That area needs a shot in the arm, for sure," Miller said. "Development is very close, but there are still some challenges over there."
The former funeral home sits about three blocks east of the John H. Boner Community Center and has been vacant for about three years.
Miller also owns the building at 653 Massachusetts Ave. that houses Liberty Street and the one at 901 Dorman St. that houses the Dorman Street Saloon, in addition to several downtown Victorian-style homes.
 
Please enable JavaScript to view this content.