The downtown location of Ruth's Chris Steak House is set to undergo a $2 million renovation that will close the upscale restaurant for much of September, as other players in downtown's upscale steak market work on renovations or prepare to open new restaurants.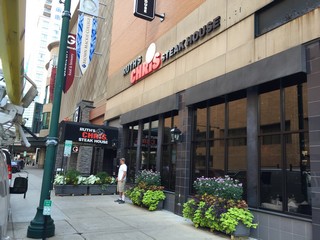 Ruth's Chris franchisee Hoosier Hospitality Group said Thursday morning that it would shut the doors early next month and reopen Sept. 23. Ruth's Chris, at 45 S. Illinois St., has been a tenant at Circle Centre mall for 20 years.
"We're exceptionally proud to reveal the reinvigorating look and feel of our downtown restaurant, which opened in 1996," franchisee Larry Griggers said in a press release. "The design of the restaurant will attract a new generation of Ruth's patrons while connecting local and out-of-town guests."
The 9,500-square-foot restaurant will feature a new interior with sleek and contemporary finishes, an expanded bar area and updated dining room, Hoosier Hospitality Group said.
Highlights will include:
• A 5,600-square-foot dining room, including five private-dining spaces
• Expanded bar area with seating for more than 70 guests, in addition to live piano music, new bar seats, high-top tables and booth seating
• New exterior facade with tall granite and tile, new awnings and windows
• Temperature-controlled wine storage
• Updated kitchen
• High-end culinary technology throughout the restaurant, including Tastevin iPad menus
New menu items will include a chilled seafood tower, bone-in New York strip and 40-ounce tomahawk ribeye.
Ruth's Chris is the second steak house on Illinois Street to recently pull the trigger on a revamp. The owners of St. Elmo Steak House at 127 S. Illinois St. in May began repairing the historic building's facade, which was beginning to crumble.
Competition among steakhouses downtown could become more cutthroat in the next several months. Two newcomers to the market—Hyde Park and Red, the Steakhouse—are set to become the latest entries. Hyde Park is set to go into the Illinois Building at Illinois and Market streets, and Red into the building at 14 W. Maryland St., just around the corner from Ruth's Chris.
The new entries will bring the number of high-end steak houses downtown to at least a dozen—with more expected.
Please enable JavaScript to view this content.